Joik adventní kalendář 2021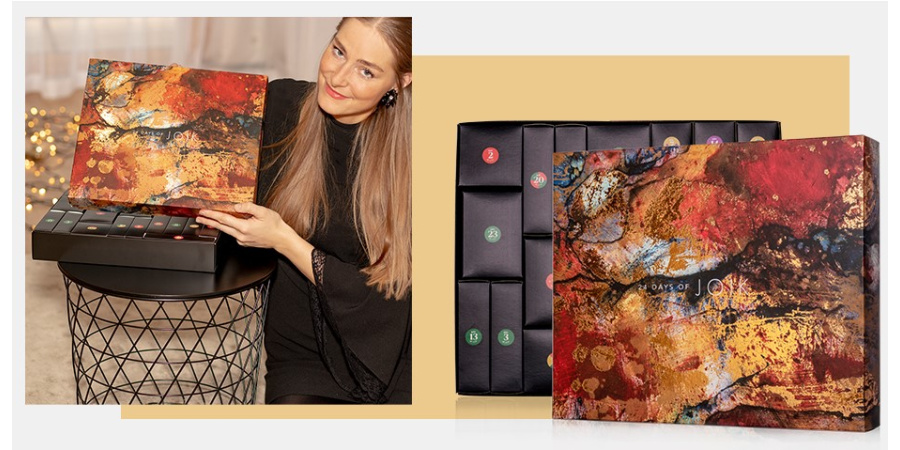 Čas plyne jako voda a my máme radost, že k nám opět přichází nejkrásnější období v roce. Ten voňavý a tajemný čas, kdy k sobě lidé mají tak nějak blíž, čas drobných radostí, předvánočních příprav a rozjímání.
S námi už nemusíte čekat na Mikuláše s čertem, ale můžete si radost udělat hned a sami! :) Pro ty, kteří byli celý rok hodní, totiž přinášíme úžasnou adventní novinku od naší nejoblíbenější značky JOIK! 
Legenda mezi adventními kalendáři! 
Joik si každoročně na svém kalendáři nechává velmi záležet. Letos je, oproti předchozím rokům, jejich adventní kalendář něčím skutečně unikátní. Jde vlastně o takové malé umělecké dílo, protože přebal kalendáře obsahuje originální malbu od estonské, světově uznávané umělkyně Katrin Karu. Obraz vznikl v Abu Dhabi a byl inspirován tamními jasnými světly a hojností.
Pojďte se s námi nechat překvapit a to hned 24x! Jak už je u této značky zvykem, těšit se můžete na výběr těch nejoblíbenějších produktů celé značky a také na žhavé novinky, které bude možné pořídit až v příštím roce. Značka rozšířila řadu dekorativní kosmetiky, což nás velmi těší, ale novinky najdete i v péči o tělo a pleť.
Review of the e-shop
široký sortiment,sekce buď zachránce s produkty se slevou
Rychlé dodání ,Příjemná komunikace,Dárek k nákupu ,Zboží přišlo nádherně zabaleno
V tomto eshopu nakupuju opakovaně. Kvalitní výrobky, zajímavé značky a skvělý zákaznický servis.
skvělý eshop se širokánským sortimentem,možnost "být zachráncem" pro produkty po expiraci,rychlé a spolehlivé vyskladnění,extra pečlivé zabalení