RENOVALITY Hyaluronic serum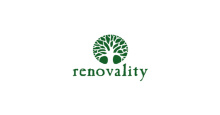 Description and parameters
Review (46)
Discussion
RENOVALITY Hyaluronic serum
Hyaluronic serum containing low molecular weight hyaluronic acid and pink hydrosol. Hyaluronic acid is an excellent agent for skin regeneration and protection. It is naturally found in tissues, where it forms an intercellular filler and contributes to the skin's structure and retains moisture in the skin. Rose hydrosol contains the same substances as its essential oil. Hydrates, refreshes and soothes all skin types. It can induce the right well-being for you and your face.
Why will you love it?
The serum can be used as a great base for all facial oils. Its unique natural formula ensures intensive skin regeneration and a comprehensive anti-wrinkle effect.
Use
Apply a few drops of the serum morning and evening on cleansed and cleansed skin, gently massaging with fingertips. The serum can also be used on the décolleté and neck. For external use only!
Local manufacturer (CZ and SK)
No
Origin of the brand
Czech Republic
Tips for use
Apply a small amount of the serum to cleansed skin. The serum is absorbed within a moment and then a reasonable amount of cream can/needs to be reapplied. If the cream is crumbling or forming lumps, this is a sign of applying too much cream and possibly serum.
Notice
For external use only. However, do not use natural cosmetics on open wounds either. This product is not intended to diagnose, prevent or cure any disease. In case of eye contact, flush with lukewarm water from the inner corner to the outer corner for at least 15 minutes. If you wear contact lenses, remove them before rinsing. If irritation occurs, seek medical attention. Before the first use, it is recommended to perform the so-called. patch test, i.e. apply and test the cosmetic product for tolerance on a small area of skin, preferably on the wrist, and wait 24 hours. This method can prevent the onset of allergic reactions and hypersensitivity to the product. If an allergic reaction occurs after application, wash the skin surface with lukewarm water. Stop using the product immediately. If the allergic reaction persists for a prolonged period of time, seek medical attention.
Storage
Store in a dry and dark place at room temperature. Once opened, use within 3 months. Keep out of reach of children.
Ingredients
Aqua, Rosa Centifolia Flower Water (Rose Hydrosol), Glycerin, Hyaluronic Acid, Phenoxyethanol (and) Caprylyl Glycol
Nejvíííc TOPINKA. Hlavně funguje a vyhlazuje jak má :)
Jana  18.01.2019
Dobrý den,mám dotaz, můžu na hyaluronové sérum hned nanést moringový nebo arganový olej?Děkuji Jana
Lucie Čedíková 19.01.2019
Dobrý den, Jani, určitě, jakmile nanesete hyaluronové sérum, můžete ihned použít olej. Sérum s olejem se poté do pokožky vstřebá společně. Míša
Lucie Hanáková 28.01.2019
Dobrý den, chtěla jsem se zeptat na toto sérum. Uvádíte, že se jedná o přírodní produkt, bohužel obsahuje phenoxyethanol, který ovšem patří do chemických látek potenciálně zdraví škodlivých. Toto sérum jsem bohužel zakoupila, aniž bych si ověřila složení a jsem tedy zklamaná.
Lucie Čedíková 31.01.2019
Dobrý den, omlouvám se, že jsme nereagovali hned, ale některé dotazy přeposíláme přímo výrobcům kosmetiky. Většinou to děláme ještě ten den, kdy dotaz dostaneme, ale pak musíme počkat na jejich odpověď. Následně ihned odepisujeme zákaznicím. U všech produktů je uvedeno složení právě z toho důvodu, aby si ho zákaznice mohly před koupí přečíst a zvážit tak, jestli daný produkt koupit chtějí nebo ne. Nic tedy netajíme, s kolegyňku pracujeme na českých překladech všech složení tak, aby to bylo zase o krůček blíže Vám zákaznicím. Zároveň zvažuji speciální označení pro všechny produkty, které jsou 100% přírodní - aby měly zákaznice jistotu a už nemusely studovat složení. Některé chemické látky jsou i v přírodní kosmetice totiž povolené, mají ale stanované maximální množství, které se v ní může vyskytovat. Takže ano, i když se jedná o přírodní kosmetiku, i tak tam můžete najít složky, které úplně přírodní nejsou. Co se týká tohoto séra, vkládám Vám sem odpověď přímo od výrobce: "Phenoxyethanol se opravdu velmi běžně vyskytuje v kosmetice jedná se o konzervant, který jsme museli použít, jinak by se nám kyselina rozpadla ve vodu. Dlouhodobě jsme testovali stabilitu Hyaluronového séra, leč bez tohoto pojiva se po měsící složení vždy rozpadlo ve vodu. Naše sérum jako jediné nemá CPK, pracujeme ale intenzivně na změně právě phenoxyethanolu za ryze přírodní látku, jen je to na delší trať, aby se nám sérum nerozpadalo (stabilizační test většinou trvá 2-3 měsíce). Tento konzervant je skoro v každé kosmetice a v séru je ho co nejmenší množství i značně pod povolenou hranicí, z toho důvodu je taktéž například uvedený v INCI na posledním místě s nejmenším zastoupením.". Pokud byste měla jakékoli další dotazy, určitě se na mě obraťte. Míša
RENOVALITY Hyaluronic serum
Review of the e-shop
Jako vždy skvělá komunikace. Velký výběr produktů a bleskové dodání.
bleskurychlé odeslání zboží ,přehledný eshop ,krásně zabalený, voňavý balíček je potěšení rozbalovat
Výborná komunikace, expresní dodávka zboží
Rychlé odeslání, krásně zabalené, top produkty.
Bleskové doručení do druhého dne
V tomto eshopu nakupuji pravidelně už pár let. Servis je od počátku bezchybný, nikdy jsem s ničím neměla problém. Nabídka značek je velmi pestrá a ceny jsou fajn.
Super přírodní kosmetika na jednom místě. Objednávala jsem zde už několikrát. Rychlé dodání a krásně zabaleno. Děkuji
Velký výběr ,Kvalitní zboží ,Rychlé dodání