JOIK HOME & SPA candle made of plant wax Lovely Lilac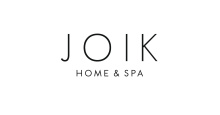 Description and parameters
Review (1)
Discussion
JOIK HOME & SPA candle made of plant wax Lovely Lilac
Fragrant, rich and wonderfully true lilac aroma, like a walk through an early summer garden.
The candle is made of rapeseed wax. This has several advantages. Joik uses only European rapeseed wax, thus ensuring a smaller ecological footprint due to the shorter transport route.
It does not contain GMO.
It is biodegradable and burns longer and cleaner than paraffin.
Suitable for vegans
Burning time 30h
Other equally interesting fragrances can be found HERE
Notice
The first time you light a JOIK candle, let it burn until the melted wax reaches the edge of the glass. This will ensure the candle burns evenly. We recommend following this rule every time you light a candle. Never light a candle near flammable materials. Always place the candle on a non-flammable, sufficiently large, flat base (plate, etc.). If you place the candle on an uneven surface, it will burn poorly. Keep out of reach of children and animals, this is not a toy. Keep the length of the wick to 5mm, it should not be too long or too short, this will cause incorrect burning. If your candle is smothering (burning with a small flame), remove enough wax. If the wick is too long, blow out the candle and carefully shorten the wick. It is recommended not to leave the candle burning for more than 3 hours at a time (optimally 2 - 3 hours), as the wick may then be drowned in a large amount of melted wax. Do not light the candle in a draught to prevent the flame from smoking and thus scorching the walls of the glass container. If the glass gets dirty, blow out the candle and clean the inside of the glass with a cloth when it cools down. Do not leave the candle burning unattended. Failure to follow these safety instructions and the safety instructions on the label affixed to the bottom of each candle is not grounds for a legitimate claim..
Local manufacturer (CZ and SK)
Yes
Origin of the brand
Estonia
This item has not been discussed yet. If you want to be first, click on the button Add a post
JOIK HOME & SPA candle made of plant wax Lovely Lilac
Review of the e-shop
The goods are always beautifully packaged, with a sprig of lavender and a painted heart on the box. It's extremely gratifying.
Large selection Quality goods Fast delivery
Very nice and lovingly packed Fast delivery
Fast delivery, beautifully packed :)
NIC