BalancoShamp - tuhý šampon na mastné vlasy Soaphoria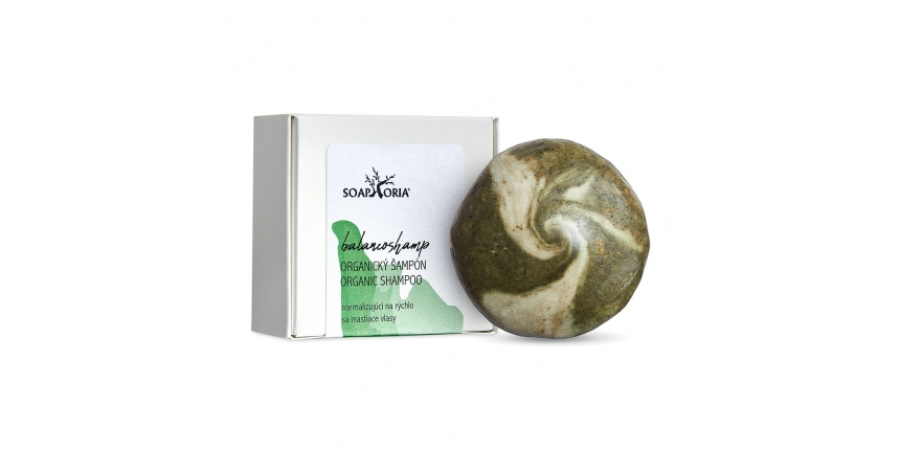 Tenhle šamponek obsahuje velké množství cenných olejů a blahodárných bylinek, které napomáhají k navrácení rovnováhy a normalizaci pokožky hlavy. Najdete v něm mátu peprnou a kadeřavou, rozmarýn, měsíček a citrónovou trávu v kombinaci s ricinovým olejem a zeleným jílem.
Na co je vhodný?
Je vhodný na mytí vlasů, které se více mastí.
Jak ho používat?
Navlhčete si vlasy a šamponem po nich přejíždějte. Prsty vmasírujte šampon do vlasů, vytvoříte tak pěnu, kterou následně opláchněte vlažnou vodou. V případě potřeby postup opakujte.
S čím jde dobře dohromady

Množství
60 g
Skladování
Mezi mytím vlasů uchovávejte šampon na suchém místě. Prodloužíte tím jeho životnost.
Složení
Sodium Cocoyl Isethionate, Cocomidopropyl Betaine, Bentonit, Cetyl Alcohol, Cetaryl Alcohol, Melissa Officinalis Leaf Extract, Mentha Piperita Oil, Rosmarinus Officinalis Leaf Extract, Glycerin, Ricinus Communis Seed Oil, Calodendrum Capense Oil, Cocos Nucifera Oil, Melissa Officinalis Leaf, Mentha Piperita Leaf, Panthenol, Allantoin
Cena
195 Kč
KDE V E-SHOPU HO NAJDETE?
SOAPHORIA BalancoShamp tuhý šampon na mastné vlasy - Krásná Každý Den, váš e-shop s přírodní kosmetikou (krasnakazdyden.cz)
Další varianty tohoto šamponu
Proč jsem přešla na tuhé šampony
Spokojenost s tuhými mýdly - před nějakým časem jsme doma začali používat tuhá mýdla a to mě dovedlo k myšlence, že když jsem spokojená s nimi, mohla bych být i s tuhými šampony, které mě původně příliš nelákaly. Zkusila jsem je a už něchci jinak - jsem s nimi více než spokojená ;-)
Praktičnost – šamponek je malý, skladný, nikde se nevylije a dají se na něj pořídit rozkošné plechové krabičky, které budou už brzy v nabídce v e-shopu :-)
Náš názor
Tuhým šamponům jsem doslova propadla. Už ani nevím, kdy jsem naposledy použila klasický tekutý. Vyzkoušela jsem několik značek a každý výrobce dělá své tuhé šampony trochu jiné. Proto pokud Vám nesedne tuhý šampon od jednoho výrobce, nemusíte zoufat. Vyzkoušejte šampon od jiného a třeba to bude ten pravý. I já jsem to tak měla :-)
Tuhý šampon od Soaphoria je na omak měkčí a obsahuje malé částečky bylinek. Vůně je nádherně bylinková a svěží. Vlasy mám hodně jemné a rychle se mi mastí, takže to, že jsem vybrala BalancoShamp bylo už tak nějak předem jasné. Musím říct, že hned asi po druhém použití, jsem byla neskutečně překvapená. Vlasy se mi sice nepřestaly mastit (i když někteří to tak po tomhle šamponu mají), ale jsou takové jakoby "natužené". Jamile si umyji vlasy tímto šamponem, vůbec nemusím použít jakákoli tužidla a podobné hračičky, protože mi účes prostě drží. Šampon střídám podle nálady ještě s kopřivovým od jiné značky (ta bude příští týden nově v e-shopu, takže se už můžete těšit).
20.3.2016
Review of the e-shop
everything without problems
--
Quality goods, fast order processing
Large selection of natural cosmetics