Catarina Barbosa Cosmétiques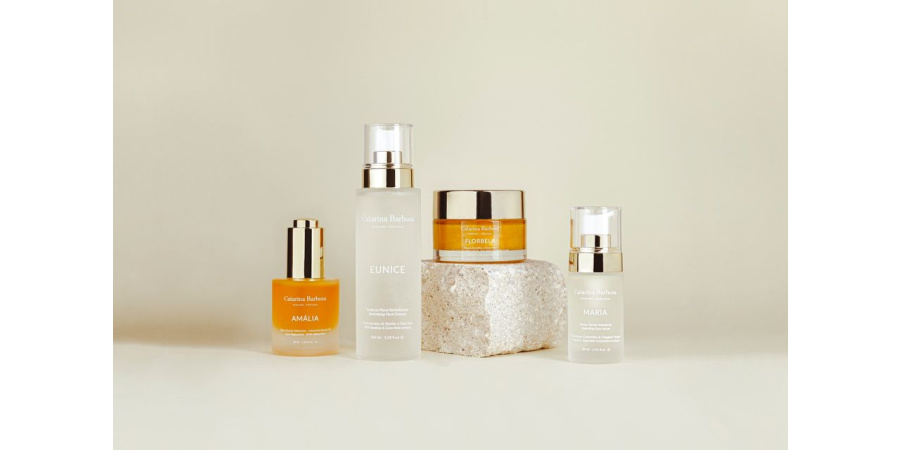 We are very pleased to introduce a new, beautiful, fragrant and effective cosmetic brand, Catarina Barbosa Cosmétiques, from the sunny Portuguese coastal town of Vila Nova De Milfontes on the Vicentine coast of Odemira. At Catarina Barbosa Skincare they use the highest quality organic products that are formulated to improve the condition of your skin. They decide on the ingredients for all their cosmetic lines by spending hours researching the elements that make the perfect blend to their premium products.
THEIR MISSION
Their mission is to create an authentic and transparent natural skincare line that delivers visible results while using sustainable ingredients.
VALUES
They believe in the simplicity of nature and the benefits each plant can bring to our products. Formulations work exactly where needed to fully revitalize and hydrate skin. Everyone deserves great skin, and all ingredients are selected solely based on their individual properties as well as their resulting effectiveness for improving your skin. Their passion is to provide the highest level of purely botanical beauty products.

Isabel
On contact with water, this lightweight cleansing oil transforms into a rich cleansing milk that hydrates and softens the skin while removing makeup including excess oil, dirt and impurities.
Florbela
An oil and gel mask with a wonderful scent of sandalwood and neroli. It works on the principle of enzymatic exfoliation. It contains the enzyme bromelain from pineapple and the enzyme papain from papaya. The fruit enzymes are derived from fruit and have a soothing, anti-inflammatory effect.
Eunice
Eunice is a revitalizing and moisturizing mist essence that multiplies the absorption capacity of your skin, increasing the effectiveness of the products you apply next in your skin care routine. With hydrosols from Neroli, Rose and Lavender, High Molecular Hyaluronic Acid, Panthenol, Aquaxyl™, Hexapeptide 11, Bamboo and Gotu Kola (Brahmi) Extract, this hydrating formula restores radiance and strength to the skin.
Mária
The advanced serum contains the most effective ingredients such as plant ceramides, plant collagen, prebiotics, glycogen and carbohydrate isomerate. The skin is brighter and its texture is improved. The appearance of signs of aging is reduced, helping to support your skin's microbiome. The result is nourished, hydrated and soft skin.
Amália
An oil packed with the rarest natural oils such as prickly pear oil, argan oil, rosehip oil, camellia oil, pomegranate oil and antioxidants such as vitamin E and bakuchiol.
Simone
The luxurious blue silk skin balm works at the cellular level to deeply nourish, protect and soften your precious skin thanks to the precious Blue Tansy substance.
It melts into "velvet" on contact with the skin.
Whichever product you reach for, you won't regret it :-)
Lucy
18. 5. 2023
Review of the e-shop
everything without problems
--
Quality goods, fast order processing
Large selection of natural cosmetics
fast order processing interesting assortment