CLEANO Ecological fabric softener Sensuality 1,5 l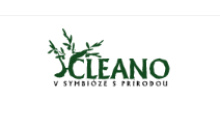 Description and parameters
Review (0)
Discussion
CLEANO Ecological fabric softener Sensuality 1,5 l
Eco-friendly, chemical-free fabric softener with a scent of sensuality. It softens and softens linen and textiles, helps to rinse away detergent residues, brightens colours, makes ironing easier and thanks to the added organic essential oils it smells beautiful. the low-toxicity composition is also suitable for sensitive skin and is environmentally friendly thanks to its highest biodegradability.

> vegan formula with plant and mineral ingredients, without aggressive synthetic detergents or artificial fragrances
> softens and softens fabrics, facilitates ironing, reduces the risk of skin irritation and allergic reactions
> thanks to the unique composition of the highest biodegradability and low toxicity level for aquatic organisms, the ecological fabric softener is also suitable for septic tanks
> containing organic essential oils, designed for washing in the washing machine and hand washing
> VEGAN FABRIC SOFTENER
> BIODEGRADABLE
> GENTLE ON SKIN AND TEXTILES
> IDEAL FOR SEPTIC TANKS
It is also worth thinking about the environment in everyday activities, such as laundry. Eco-friendly detergents are a gentle alternative that is easily biodegradable and gentle on the skin, reducing the risk of allergic or other reactions and saving your clothes and other textiles, thus extending their life. The unique formula is an excellent alternative to products such as natural laundry essences or fragrances. The low level of toxicity makes the product the number one choice for laundry in any eco-friendly household.

CONTENT
1500ml

OUR TIP
Fragrant organic fabric softener without added synthetic fragrances is gentle on laundry and skin, while ensuring soft and gentle laundry.

RECOMMENDED COMBINATION
Eco-friendly fabric softener forms an inseparable pair with eco-friendly detergent. From an environmental point of view, but also to achieve optimal results, it is not recommended to combine eco detergents with commercial alternatives.
For those looking for more ways to eliminate their carbon footprint and help save our planet, we highly recommend looking around Cleano's other categories of eco-friendly cleaning and other useful household products.
PRODUCT COLOUR
The product has a soft white colour.

PRODUCT PACKAGING AND RECYCLING SUGGESTION
The product is packed in a practical 1500ml PET container with a PET cap. Once the product has been used, the packaging can be returned as part of the recycling programme. However, due to capacity constraints, if you decide to return the packaging to one of our brick-and-mortar stores, we kindly ask you to inform us in advance about the current return option via our contacts.
The packaging can also be reused in the home after the contents have been consumed and thoroughly washed.
If you decide to throw the packaging away, please put it in the yellow container for plastic waste collection.

APPLICATION
Follow the recommended dosage according to the soiling intensity of the laundry as indicated directly on the product label. The fabric softener should not come into direct contact with the laundry.
NOTICE
Follow the recommended dosage on the product label. If the recommended dosage is significantly exceeded, delicate and sensitive materials may be damaged.
Keep out of reach of children. Avoid contact with eyes. If contact with eyes, wash with plenty of lukewarm water. Seek medical attention if the problem persists.
Questions and Answers
Is organic fabric softener suitable for allergy sufferers?
Yes, we have extremely many positive reviews of the product even from allergy sufferers and people suffering from skin hypersensitivity. However, as every skin is different and reactions cannot always be predicted, we recommend that you try washing in an eco-friendly detergent initially on a section of your clothing to ensure that your skin reacts.

Is the product suitable for washing children's clothes?
Yes, thanks to the fact that the product does not contain added chemicals or synthetic fragrances, it is definitely a suitable choice for washing children's clothes. However, we still recommend that the correct dosage and thorough rinsing of children's textiles after washing are taken care of.

Is this product suitable for septic tanks?
Yes, the product is an ideal choice for septic tanks also due to its low toxicity level.
Why will you love it?❤️
Avivage has a beautiful, delicate, slightly sweet scent. It makes your laundry smell as good as if it had just been washed
According to certification
Biodegrable
Local manufacturer (CZ and SK)
No
Use
For machine washing, use 1 capful (35 ml) per load (4-5 kg). For hand washing, dispense 1/2 cap (17 ml). For hand washing, add to the last soak or dispense into a separate dispenser in the washing machine. The fabric softener should not come into direct contact with the laundry.
Origin of the brand
Slovakia
Storage
Keep out of reach of children! Protect your eyes. For external use only.
Ingredients
Aqua, Cetearyl Alcohol, Betaine, Coco - Glucoside, Aroma, Helianthus Annuus Seed Oil, Cocos Nucifera Oil, Xanthan Gum, Citric Acid, Sorbic Acid
According to certification
Vegan
This item has not been discussed yet. If you want to be first, click on the button Add a post
CLEANO Ecological fabric softener Sensuality 1,5 l
Review of the e-shop
Product selection Speed of delivery Incredibly beautiful product packaging, it is not often seen
Zadnou jsem nenasla
everything without problems
--