CORAVIN Pivot Black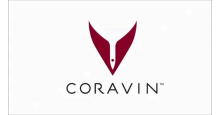 Description and parameters
Review (0)
Discussion
CORAVIN Pivot Black
SimpleCoravin Wine Preservation System suitable for everyday use, Preserves the contents of the bottle for up to several weeks, Simple operation, lower operating costs, elegant design, One capsule pours up to 20 150 ml glasses of wine,
How does it work? Remove the original stopper, whether cork or screw cap, from the bottle and replace it with the Coravin screw cap supplied. Insert the Coravin PIVOT system into the stopper, pour the wine and the special food gas will automatically fill the bottle in the opposite direction. This prevents the wine from coming into contact with the air and thus spoiling. After removing the Coravin PIVOT system, close the cork with the cap and you can store the bottle for up to several weeks.
The ingenious combination of Pivot Stopper and Device keeps leftover wine in the bottle for up to 4 weeks
Easy operation
Number of capsules (bombs) included: 1pc
Number of stoppers in the set: 2pcs
Needle cleaning tool
Material: plastic, stainless steel, silicone
Local manufacturer (CZ and SK)
No
Tips for use
Never again will you have to pour out unfinished wine or drink it quickly because it will lose its taste in an open bottle.How does it work? After opening the bottle, replace the original cork or screw cap with the Coravin Stopper. You then insert the Coravin Pivot into the stopper and simply pour. After removing the Coravin Pivot System, simply close the stopper with the cap.When pouring wine, a special food gas flows in the opposite direction to prevent oxygen from entering the bottle, coming into contact with the wine and thus gradually deteriorating the contents. When used, the bottle is filled with a protective gas, so "open" bottles can be stored for up to several weeks. Unlike needle systems, however, the bottle is filled with less pressure, so on the one hand there is less gas consumption, but on the other hand there is a shorter storage time of several weeks from the first opening of the bottle. For this reason, this system is better suited for more frequent use - typically when you have several open bottles in the fridge and you refill and replace them over a period of days to weeks. The Pivot System allows you to open several different types of bottles at the same time and the contents are not spoiled. Every glass is so perfect, even 4 weeks after the first pour. Of course, it is possible to order additional gas capsules and plenty of additional Pivot Stopper caps, or choose a set with a wider range of accessories.
This item has not been discussed yet. If you want to be first, click on the button Add a post
Review of the e-shop
Product selection Speed of delivery Incredibly beautiful product packaging, it is not often seen
Zadnou jsem nenasla
everything without problems
--