EVERYDAY MINERALS Kabuki brush with long handle 1 pc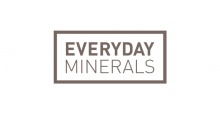 Description and parameters
Review (5)
Discussion
EVERYDAY MINERALS Kabuki brush with long handle 1 pc
Univerzální Kabuki štětec je perfektní volbou pro nanášení tvářenky, minerálního make-upu či pudru. Prodloužená rukojeť umožní vyšší obratnost při líčení, zaoblená špička štětce výborně nabere pigment, zatímco heboučké husté štětiny zajistí rovnoměrnost při nanášení minerálního líčidla.
Proč si ho zamilujete? ❤️
Jako všechny výrobky Everyday Minerals je i tento štětec 100% veganský a netestovaný na zvířatech. Rukojeť je vyrobena ze 100% obnovitelného bambusu. Syntetické štětiny jsou husté, jemně plyšové a zaručí tak bezchybné krytí s minimálním úbytkem pudru.
Tips for use
To clean the brush, apply a mild hair shampoo to the dampened bristles, lather and rinse thoroughly under running water. Smooth the bristles in one direction, place on a clean towel and let dry naturally.
Local manufacturer (CZ and SK)
No
Storage
Keep out of reach of children.
Great brush, I use it together with Everyday Minerals powder. Soft, pleasant to the touch, easy to apply powder.
Lucia 23.07.2019
Je nejaký rozdiel medzi týmto a zrezanym stetcom? Chcem pouzivat na makeup. Neskor mozno aj púder a rada by son nala iba jeden stetec... co by ste mi poradili? Ďakujem
Lucia 24.07.2019
Dobrý deň, Kabuki štětec s krátkou rukojetí Eco Botan je vynikajúci na nanášanie minerálneho make upu. Je veľmi bohatý a jemný, obľubujem ho aj na púder. Kabuki štětec s dlouhou rukojetí je univerzálnym štetcom na púder, lícenku aj minerálny make up. Tento mi skôr vyhovuje na púder a lícenku. Takže sa nedá povedať, ktorý je lepší alebo či je medzi nimi výraznejší rozdiel :) Lucia, produktová víla
Lucia 11.12.2019
Dobry den, je tento stetec vhodny i na nanasanie tekuteho make upu? Dakujem
Lucka 18.12.2019
Dobrý den, Lucia, děkuji Vám za Váš dotaz :) Tento univerzální štětec je přednostně určen pro aplikaci sypkých pudrů a tvářenek. Štětiny tohoto štětce jsou však syntetické a hodně husté, je tedy možné ho na nějaký více tekutý make-up použít. Na hutné make-upy bych tento štětec spíše nedoporučila. Hezký den, Lucka
Customers who bought this item also bought
EVERYDAY MINERALS Kabuki brush with long handle
Review of the e-shop
Product selection Speed of delivery Incredibly beautiful product packaging, it is not often seen
Zadnou jsem nenasla
everything without problems
--
Discounts and news by e-mail
Ke Zvoli 783
25241 Dolní Břežany
Česká republika
Business Reg. No.: 05080720
VAT ID: CZ05080720