Konjac sponge, a natural miracle in skin care for all skin types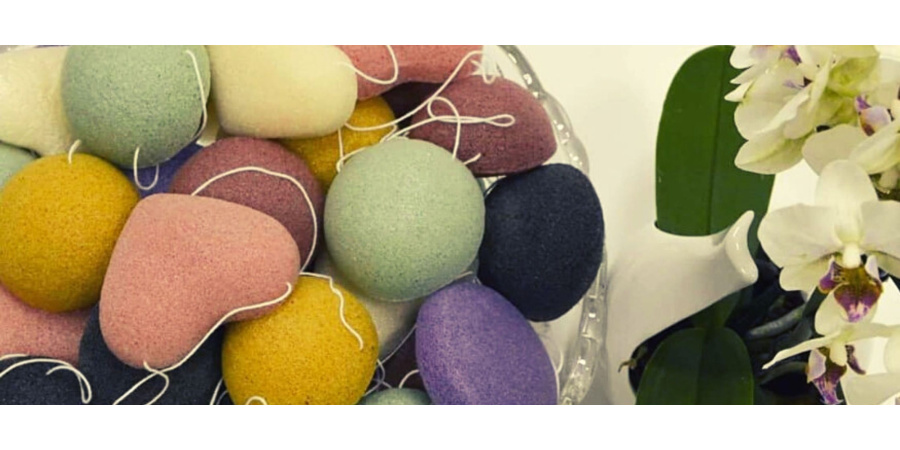 Do you want to deep cleanse your skin, give it a gentle exfoliation, while adding a ton of minerals all in one single step?
Then join us for a closer look at the sponges from the Slovak company Konjac 
✅ Konjac sponge is not a newcomer in cosmetic care. But it has so many benefits that it is becoming an increasingly popular part of our beauty rituals. Konjac is a thermophilic plant, more accurately called Indian viper's foot, which originally comes from the tropical rainforests of Asia. Nowadays, it is widespread in tropical areas of West Africa, Asia, Australia to Polynesia.
White versus coloured sponge
✅ White konjac sponge is the basic form of sponge. However, in order to further enhance and amplify the effects of using the sponge, other useful additives are added to the konjac mash during the manufacturing process to help improve specific skin problems.
Every colour has a different effect
❤️ black with activated bamboo charcoal - for acne, oily, teenage skin prone to inflammation
❤️ red with French red clay - cleansing and detoxifying effects for all skin types. Accelerates all self-healing processes of the skin.
❤️ green with green tea extract - revitalizing and antioxidant effects. Suitable for oily to combination skin. Perfectly cleanses the pores, thus fighting inflammation.
❤️ yellow with turmeric - anti-inflammatory, antioxidant and antibacterial. Helps to unify skin tone.
❤️ pink with pink French clay, rose or sakura flower extract - for sensitive to hypersensitive skin. For skin stressed by extreme weather conditions.

How to work with the sponge?
✅ Before using the sponge for the first time, soak it in a bowl of lukewarm water for a few minutes. The sponge will soak up the water, increase its volume and soften beautifully. Now it is fully ready to take care of you. Squeeze to remove excess water. You can either use the sponge with just water or apply a small amount of your favourite cleanser. Continue to massage gently in circular motions. If you have sensitive skin and are looking for a way to cleanse your skin gently and effectively, the konjac sponge is all you need.
✅ After use, rinse it under lukewarm running water and squeeze to get rid of excess water. Do not wring it. Hang it up to allow it to dry freely. When it dries, it will harden again, which is perfectly natural.
✅ Just immerse it in water and rehydrate it before using it again. Never use Konjac mushroom if it is dry. A good quality sponge should last at least 2 - 3 months of use, but it is individual, sometimes it can last up to half a year.
In our offer you will find not only different colour variants, but also sponges of different shapes or sizes. Do you prefer a classic, a heart as a gift, a teddy bear for our little ones or a larger konjac sponge suitable for the whole body? 
It's all up to your preferences, and we're curious to know which variant will be your favourite ❤️ .
Review of the e-shop
everything without problems
--
Quality goods, fast order processing
Large selection of natural cosmetics
fast order processing interesting assortment