Hyaluronic acid in DULCIA natural cosmetics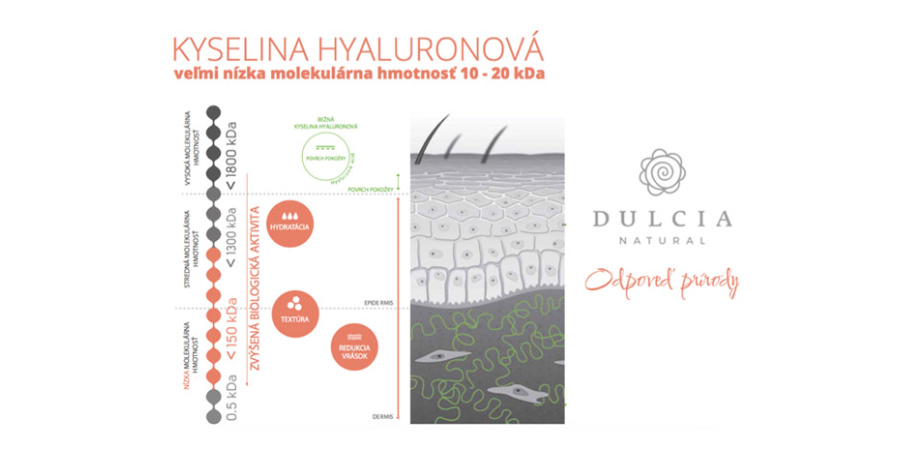 Hyaluronic acid is a transparent substance (hyalos means glass in Greek) that has an exceptional ability to bind moisture. It works like a sponge, capable of absorbing up to a thousand times its own weight in water. It is found in every tissue of our body. 
It is contained in the diet and so its production can be stimulated through the diet. As we age, the concentration of hyaluronic acid in the skin, which can bind a lot of water, decreases significantly. The skin's connective tissue therefore stores less water, giving the skin an inelastic appearance and a tendency to wrinkle. Hyaluronic acid treatment is used to reduce the appearance of wrinkles, facial lines, sagging skin and loss of skin colour after acne.
Dulcia creams use the highest quality hyaluronic acid from the world's best manufacturer. The difference is in the molecular size of the hyaluronic acid. The smaller the molecular size, the deeper the skin layers it penetrates and its biological effects in the skin are higher. In contrast, hyaluronic acid with a higher molecular weight does not penetrate as deeply, remaining in the higher layers of the skin where it mainly acts as a moisturizing agent and provides protective effects.
You will find hyaluronic acid in Dulcia's best-selling skin cream:
Anti-wrinkle cream with hyaluronic acid and Q10
The primary goal of this cream is anti-wrinkle care, prevention of skin aging and also wrinkle smoothing. Low molecular weight hyaluronic acid allows the cream to penetrate deep into the skin where it reacts with skin cells. It improves skin texture due to the reduction of pores, reduces wrinkles, and smooths skin texture. The cream stimulates the production and synthesis of collagen. All ingredients in the cream work together to create an extremely effective care for mature skin. Mature skin is defined from the age of 30 until the age of 60. The cream is active, vibrant and your skin gets just what it needs from it, which is why it is suitable for such a wide age range. 
In the e-shop you will find here.
Source: DULCIA natural
Review of the e-shop
everything without problems
--
Quality goods, fast order processing
Large selection of natural cosmetics
fast order processing interesting assortment