The natural way to brighten the skin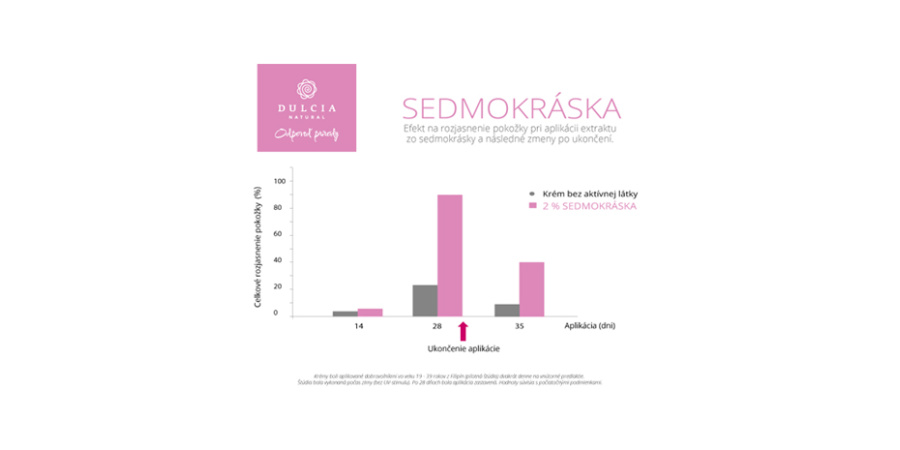 Daisy extract is used in cosmetic preparations to lighten (brighten) the skin, pigment spots, hyperpigmentation or age spots.
Daisy is a highly effective substance that affects various processes associated with melanin formation, used to alleviate and remove dark spots on the skin caused by, for example, repeated exposure to sunlight, aging and genetic influences. It has the ability to begin to reduce dark spots after just four weeks of use.
Daisy extract can be found in the Daisy Eye Cream by Dulcia
Daisy eye cream - daily
Gentle revitalizing and firming eye cream provides a supply of hydration, protects the delicate skin around the eyes, anti-wrinkle. The cream is designed for any skin type that needs to be invigorated and supplied with the necessary hydration. It intensively protects the skin against the signs of aging and thanks to the powerful daisy extract, it very effectively reduces dark circles, spots, pigment spots and gets rid of unpleasant puffiness around the eyes. The extract of organic daisy flowers is an effective remedy for lightening the skin (even sensitive), counteracts excessive pigmentation of the skin and also for age spots. It gives the skin a beautiful glowing appearance and helps to drain excess accumulated fluid, thus reducing puffiness. The rare marula oil contains a high percentage of polyunsaturated fatty acids (omega-6, omega-9), which strengthen cell membranes and help retain water reserves. The cream also has a gentle lifting effect and holds make-up or concealer beautifully.
In the e-shop you will find here.
Source: DULCIA natural
20.5.2016
Review of the e-shop
everything without problems
--
Quality goods, fast order processing
Large selection of natural cosmetics
fast order processing interesting assortment