Přirozený způsob rozjasnění pokožky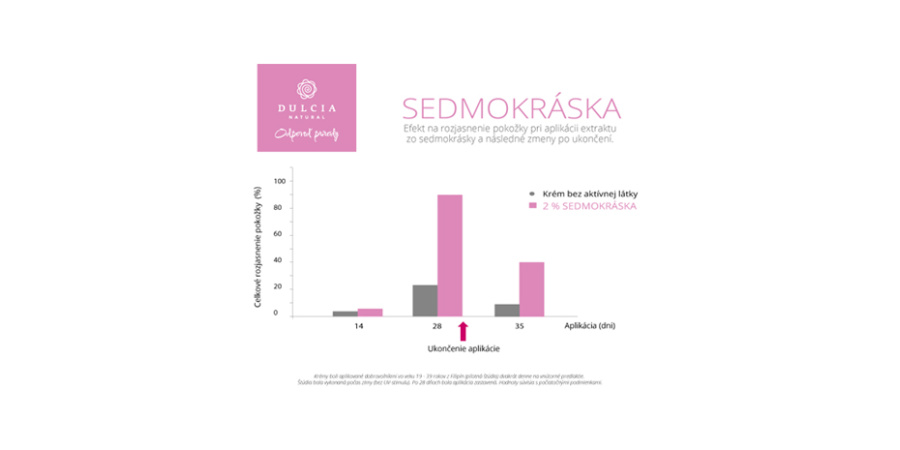 Výtažek ze sedmikrásky se používá v kosmetických přípravcích na zesvětlení (rozjasnění) pokožky, pigmentových skvrn, hyperpigmentace nebo stařeckých skvrn.
Sedmikráska je vysoce efektivní látka, která ovlivňuje různé procesy spojené s tvorbou melaninu, používá se na zmírnění a odstranění tmavých skvrn na kůži způsobených například opakovaným působením slunečního záření, stárnutím a genetickými vlivy. Má schopnost začít zmírňovat tmavé skvrny již po čtyřech týdnech používání.
Extrakt ze sedmikrásky najdete v Očním krému sedmikráska od Dulcia:
Oční krém sedmikráska - denní
Jemný revitalizující a zpevňující oční krém zajišťuje přísun hydratace, ochraňuje jemnou pokožku v okolí očí, působí proti vráskám. Krém je určen pro každý typ pleti, která potřebuje vzpružit a dodat potřebnou hydrataci. Intenzivně chrání pleť proti projevům stárnutí a díky silnému extraktu ze sedmikrásky velmi účinně zmírňuje tmavé kruhy, fleky, pigmentové skvrny a zbavuje okolí očí nepříjemných otoků. Extrakt z organických květů sedmikrásky je účinný prostředek pro zesvětlení kůže (i citlivé), působí proti nadměrné pigmentaci pokožky a také na stařecké skvrny. Dodává pleti krásný zářivý vzhled a pomáhá odvádět přebytečnou nakumulovanou tekutinu, čímž zmenšuje otoky. Vzácný marulový olej obsahuje vysoké procento polynenasycených mastných kyselin (omega-6, omega-9), které posilují membrány buněk a pomáhají v nich udržet vodní zásoby. Krém má navíc i jemný liftingový efekt a krásné na něm drží make up nebo korektor.
V e-shopu najdete zde.
Zdroj: DULCIA natural
Review of the e-shop
široký sortiment,sekce buď zachránce s produkty se slevou
Rychlé dodání ,Příjemná komunikace,Dárek k nákupu ,Zboží přišlo nádherně zabaleno
V tomto eshopu nakupuju opakovaně. Kvalitní výrobky, zajímavé značky a skvělý zákaznický servis.
skvělý eshop se širokánským sortimentem,možnost "být zachráncem" pro produkty po expiraci,rychlé a spolehlivé vyskladnění,extra pečlivé zabalení