Proč používat mátovou vodu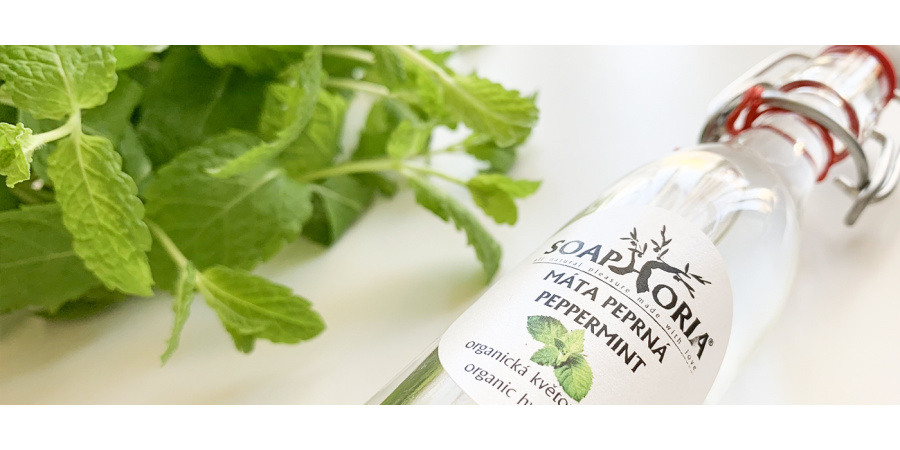 Nabídka pleťových i květových vod je dnes velmi pestrá. Najít si svého favorita určitě není problém. Některé z nich jsou vhodné na každý typ pleti, jiné svými účinky dokonale pomohou mastné nebo citlivé pleti. Mátová voda je velkým pomocníkem právě pro smíšenou, mastnou a problematickou pleť.
Tento malý zázrak se získává z čerstvých listů máty peprné, která je oblíbená pro svou vůni a chuť. Listy máty obsahují silici, mentol a další látky, které jsou pro naši pokožku velmi prospěšné. A určitě doporučuji balení s pumpičkou. Mátovou vodu tak můžete přímo nastříkat na obličej, na podrážděnou pokožku nebo do vlasů na jejich provonění.
Mátová voda neobsahuje žádný alkohol, proto nevysušuje pokožku a nezpůsobuje její podráždění. Jejím charakteristickým rysem je velmi příjemná mátová vůně, která je svěží a působí při únavě, kde povzbudí i ducha. Dokáže stahovat póry, navrací pleti rovnováhu, zmatňuje ji a tonizuje. Ochlazuje a zklidňuje ji. Má mnohem jemnější účinek než mátový éterický olej, proto není třeba ji dále ředit a aplikuje se přímo na pokožku.
Na mátové vodě je skvělé, že se nemusí používat pouze jako pleťová voda, ale dá se využít na mnoho způsobů:
Zklidňuje pokožku po holení a depilaci a mohou ji tak používat muži i ženy.
Usnadňuje rozčesávání vlasů, zabraňuje jejich nadměrnému maštění. Tak, jak pomůže mastné pleti, pomůže i mastným vlasům.
Používá se na výplach úst pro svěží dech, může tedy zastoupit ústní vodu.
Svou vůní osvěžuje, energizuje a stimuluje nervový systém.
Review of the e-shop
Jako vždy skvělá komunikace. Velký výběr produktů a bleskové dodání.
bleskurychlé odeslání zboží ,přehledný eshop ,krásně zabalený, voňavý balíček je potěšení rozbalovat
Výborná komunikace, expresní dodávka zboží
Rychlé odeslání, krásně zabalené, top produkty.
Bleskové doručení do druhého dne
V tomto eshopu nakupuji pravidelně už pár let. Servis je od počátku bezchybný, nikdy jsem s ničím neměla problém. Nabídka značek je velmi pestrá a ceny jsou fajn.
Super přírodní kosmetika na jednom místě. Objednávala jsem zde už několikrát. Rychlé dodání a krásně zabaleno. Děkuji
Velký výběr ,Kvalitní zboží ,Rychlé dodání