ANELA Greet the sun sunscreen SPF 15 5 ml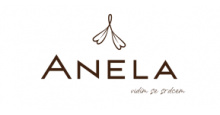 Description and parameters
Review (0)
Discussion
Say hello to the sun - sunscreen SPF 15
Sunscreen with mineral filters without nanoparticles provides reliable protection against UVA and UVB rays. It protects the skin from sunburn and premature ageing. Bisabolol and vitamin E care for and regenerate the skin during sun exposure. The cream is waterproof and does not leave a white film on the skin. Its SPF is 15.
Active ingredients: invisible zinc oxide, cocoa butter, myric wax, candelilla wax, sunflower oil, lanolin alcohol, chamomile extract
Skin types: for all skin types
100% natural product made in the Czech Republic
53.51% bio-based ingredients
SUNSCREEN WITH UV PROTECTION FACTOR 15
Wave to the sun and enjoy its rays without fear. Our nourishing, gentle and beautifully scented oil and butter based sunscreen will protect your skin and yet regenerate, nourish and support you in maintaining a youthful appearance. Its essential active protective ingredient is a natural mineral filter (dispersed zinc oxide) without nano particles, which reflects unwanted sun rays so they don't reach your skin at all. You may have experienced that sunscreens with mineral filters are very hard to spread and make you look like a clown or a geisha because you are all white. Don't worry, we know how to do it, so with our cream this won't happen to you. We have chosen the butters, oils and waxes and their proportions so that the resulting cream has a smooth consistency, spreads and absorbs very easily and adheres perfectly to the skin. This makes the cream waterproof, so it protects you even when you are swimming or sweating more. Both the butters and oils, which are so called high oleic, can handle a lot of sun exposure, they don't flake and the cream is long lasting without the use of any preservatives or emulsifiers. Its composition is therefore purely natural with a low risk of allergy. The pleasant sensation of the cream is complemented by a non-allergenic extract of chamomile, called bisabolol, which has anti-inflammatory and soothing effects, as well as natural vitamin E, which increases the skin's resistance to free radicals. The combination of essential oils used not only smells wonderful, but also has a mild repellent effect.
SPF 15 protects you from about 93% of UVA and UVB radiation from the sun's rays, which is responsible for reddening and burning of the skin and other health effects. This might seem like a rather high number, but sunscreens with this SPF are ideal for use in our latitudes. For the sea or high mountains, reach for a cream with a higher SPF. Targeted sunbathing or prolonged exposure to the sun carries risks, so be sure not to overdo it and avoid the sun between 11am and 3pm. Particularly for young children and sensitive individuals, pay attention to the precautions we briefly summarise here. Apply sunscreen before going out in the sun. Take care when applying the cream and apply a sufficient layer to any exposed areas of the body (e.g. eyelids or the tops of the ears are often forgotten). In general, a thin layer of sunscreen means a significant reduction in SPF. You should reapply the cream every two hours and also whenever you get out of the water, even if the cream is waterproof. The effectiveness of sunscreens is reduced by water and towel rubbing. For young children, we recommend a protective suit with a UV factor. Don't forget to protect the head with a fancy hat :-), protect the eyes with good quality sunglasses and protect the whole body by drinking well.
Recommended: Avoid direct sun between 11am and 3pm, wear a head covering or umbrella. Provide children with UV-protective clothing for the water (the cheapest and safest sun protection).
ZINC OXIDE WITHOUT NANOPARTICLES
- natural mineral
- forms a film (barrier) on the skin to protect against UV rays
- is anti-inflammatory and has a slightly astringent effect, promotes healing
- it is gentle and non-irritating

ORGANIC MANGO AND COCOA BUTTER
- softens the skin, restores elasticity and firmness,
- improves skin hydration,
- protects against the negative effects of UV rays thanks to antioxidants

LANOLIN ALCOHOL
- made from sheep lanolin,
- softens, refines and moisturizes the skin,
- improves the texture of the cream

EO LAVENDER AND GERANIUM ORGANIC
- are very soothing and healing,
- they have strong disinfectant and antibacterial effects,
- regenerate light burns and redness of the skin

MYRIC AND CANNELLI WAX
- both of vegetable origin,
- they adhere to the skin and protect it from dehydration,
- softens the skin,
- improves the binding properties of the cream
SUNFLOWER AND SAFFLOWER OIL
- keep the skin soft and hydrated,
- contains antioxidants to protect against the negative effects of UV rays,
- reduce redness and promote skin cell regeneration

BISABOLOL (CHAMOMILE EXTRACT)
- non-allergenic chamomile ingredient,
- improves the condition of flaky, dehydrated and sensitive skin,
- anti-inflammatory and antimicrobial

ORGANIC ROSEMARY EXTRACT
- revitalises the skin,
- it is a powerful antioxidant that protects the skin from the negative effects of UV rays

More on the ingredients
Zinc oxide (+ caprylic/capric triglycerides + polyhydroxystearic acid)
Zinc oxide is a naturally occurring mineral. Its antibacterial, anti-inflammatory and mildly astringent properties significantly promote skin healing (e.g. for burns, diaper rash, etc.). It forms a soft film on the skin, which helps to protect it from harmful external influences. In particular, it acts as an effective physical filter for both UVA and UVB radiation. This radiation is reflected by the zinc particles and does not reach the skin at all, which does not overheat. It is very gentle, non-irritating and well tolerated by even the most sensitive skin. We use only natural zinc oxide in the purest food and pharmaceutical grade, without nano-particles dispersed in caprylic. In addition, the zinc oxide particles are coated with polyhydroxystearic acid (derived from castor oil) which helps create the desired texture, smoothness and spreadability of the cream.
Cocoa butter LZS, Organic, RAW, GMO free, Fair Trade
Cocoa butter can be found more and more often in cosmetics. Not only does it taste and smell great, but it also has many amazing properties that would be a shame not to use. Cocoa butter is full of antioxidants that protect our skin from the negative effects of external influences. It can soften, soften and soften the skin. It heals damaged and cracked skin, helps prevent stretch marks and scars. Improves skin hydration and elasticity. Suitable for extra sensitive and eczematous skin. We use only undeodorized butter of the relatively rare native Criollo variety, which comes from Peru, is uncultivated and not genetically modified.
Mango butter LZS
This nutrient-packed butter is extracted from the fruit of the mango tree, a fruit tree native to India. It contains a tremendous amount of antioxidants that protect our skin from external damage. Thanks to its unsaturated fatty acid and phytosterol content, it excels in its moisturizing, soothing, softening and regenerating properties. It heals various skin rashes, dermatitis, eczema, irritations, minor wounds, burns and frostbite. Smoothes skin damaged by scars, ulcers or stretch marks. It melts quickly on the skin, absorbs easily and does not leave a greasy feeling.
Hydrolysed olive oil (+ ethylhexyl from olive oil)
Hydrolysed pure olive oil becomes transparent with a slight aroma. It is absorbed very quickly into the skin, leaving no greasy feeling and leaving the skin surface matt and silky soft. The substance is certified by the international NaTrue company as completely safe and can be used in natural cosmetics.
Sunflower oil
Who doesn't know it, one of the most commonly used oils in the kitchen. In our products we only use oil in the "high oleic" standard, which contains an increased amount of oleic acid, is light and long-lasting at high temperatures. It contains high levels of vitamin E, a known antioxidant that helps protect the skin from free radicals. It is healing and regenerative.
Safflower oil
A lesser-known oil obtained by pressing the seeds of the safflower (Carthamus tinctorius). It is one of the light oils that are quickly absorbed without feeling greasy. It has a strong regenerative effect with an anti-aging effect. Soothes irritation, redness and helps to maintain healthy hydration.
Candelilla wax
Wax obtained from the leaves of the wax plant (Euphorbia cerifera), native to Central America. It is used to improve the perceptual properties of a cosmetic product. It softens the skin and helps to moisturise it.
Myric wax
Wax obtained from the fruit of the wax tree (Myrica pubescent). It is used to thicken cosmetic products. It softens the skin and helps to moisturise it.
Lanolin alcohol
Produced by hydrolysis of lanolin and used as an emulsifier and stabiliser. It softens, smoothes and promotes skin hydration.
Bisabolol
Bisabolol is the main ingredient of chamomile, which gives it its amazing and healing properties. It has regenerative, anti-inflammatory and antimicrobial properties, thus significantly improving the condition of flaky, irritated and sensitive skin. Bisabolol shouldn't be allergenic, but if you suffer from an allergy to chamomile as such, we recommend that you try the serum on a small patch of skin instead.
Rosemary extract BIO
A very powerful antioxidant, it helps preserve the freshness of used oils and butters.
For the record, we use mainly plant extracts obtained by supercritical CO2 extraction. Why? Because it is the purest and most effective. This extraction uses compressed CO2 above the critical temperature (31 °C), which, due to its high density, is able to dissolve and extract up to 95% of the active substances from the plant material, which is many times more than by conventional pressing. In addition, this extraction method does not unnecessarily raise the temperature, which would reduce the quality of the substances extracted, nor is any chemical substance used that would leave any residue in the final product. The plant used thus yields the maximum amount of active substances in the most gentle way possible.
EO Geranium BIO
Geranium is a purely feminine oil excellent for its harmonising effects in times of hormonal imbalance. In addition, it has a regenerating, soothing and disinfecting effect on the skin. It helps with the healing of scars and burns. The scent of this oil is sweetly herbal and reminiscent of rose.
EO Lavender BIO
Extremely fine and pure oil obtained from plants growing in the foothills of the French Alps. It has strong antimicrobial properties and reduces irritation.
Natural vitamin E (Tocopherol)
Vitamin E is quite a powerful antioxidant, so it helps the skin deal with free radicals and energy from UV rays. In natural cosmetic products, it has the function of a preservative due to this property, as it prolongs their life. We use only the highest quality tocopherol, extracted from GMO free sunflower oil.
Why will you love it? ❤️
For its subtle herbal scent, easy to apply, long lasting, doesn't stain white and your kids will love it too
Further information on the packaging
With dispenser
Local manufacturer (CZ and SK)
Yes
Origin of the brand
Czech Republic
Use
Carefully spread a sufficient amount of the cream on the skin that will be exposed to the sun. To give you an idea: for an adult, this is about 35 g of cream, which is about 6 teaspoons, for the whole body. Don't forget the areas around the eyes, lips and ears. Apply after each bath or every two hours.
Ingredients
Zinc Oxide (oxid zinečnatý), Caprylic/Capric Triglyceride (kaprylové/kaprinové triglyceridy), Helianthus Annuus Seed Oil (slunečnicový olej), Mangifera Indica Seed Butter (mangové máslo), Hydrogenated Ethylhexyl Olivate (etylhexyl z olivového oleje), Carthamus Tinctorius Seed Oil (světlicový olej), Theobroma Cacao Seed Butter BIO (kakaové máslo), Myrica Cerifera Fruit Wax (myrikový vosk), Hydrogenated Olive Oil Unsaponifiables (hydrolizovaný olivový olej), Candelilla Cera (kandelilový vosk), Lanolin Alcohol (alkohol lanolinu), Polyhydroxystearic Acid (kyselina polyhydroxystearová), Tocopherol (přírodní vitamín E), Bisabolol (výtažek z heřmánku), Rosmarinus Officinalis Leaf Extract BIO (extrakt z rozmarýnu), Pelargonium Graveolens BIO (EO geránium), Lavandula Angustifolia Oil BIO (EO levandule), Linalool*, Citronellol*, Geraniol*, Limonene*, Citral* * přirozené složky obsažených éterických olejů
Notice
For external use only. However, do not use natural cosmetics on open wounds either. This product is not intended to diagnose, prevent or cure any disease. In case of eye contact, flush with lukewarm water from the inner corner to the outer corner for at least 15 minutes. If you wear contact lenses, remove them before rinsing. If irritation occurs, seek medical attention. Before the first use, it is recommended to perform the so-called. patch test, i.e. apply and test the cosmetic product for tolerance on a small area of skin, preferably on the wrist, and wait 24 hours. This method can prevent the onset of allergic reactions and hypersensitivity to the product. If an allergic reaction occurs after application, wash the skin surface with lukewarm water. Stop using the product immediately. If the allergic reaction persists for a prolonged period of time, seek medical attention.
Storage
Avoid temperatures above 25°C when storing it and be sure to protect it from direct sunlight (sunscreen can handle short-term sun exposure). At high temperatures, oils turn rancid and lose their quality. You can usually tell that this has happened by the change in colour of the butter and also by the unpleasant smell.
This item has not been discussed yet. If you want to be first, click on the button Add a post
ANELA Greet the sun sunscreen SPF 15
Review of the e-shop
široký sortiment,sekce buď zachránce s produkty se slevou
Rychlé dodání ,Příjemná komunikace,Dárek k nákupu ,Zboží přišlo nádherně zabaleno
V tomto eshopu nakupuju opakovaně. Kvalitní výrobky, zajímavé značky a skvělý zákaznický servis.
skvělý eshop se širokánským sortimentem,možnost "být zachráncem" pro produkty po expiraci,rychlé a spolehlivé vyskladnění,extra pečlivé zabalení