4 kroky péče o ruce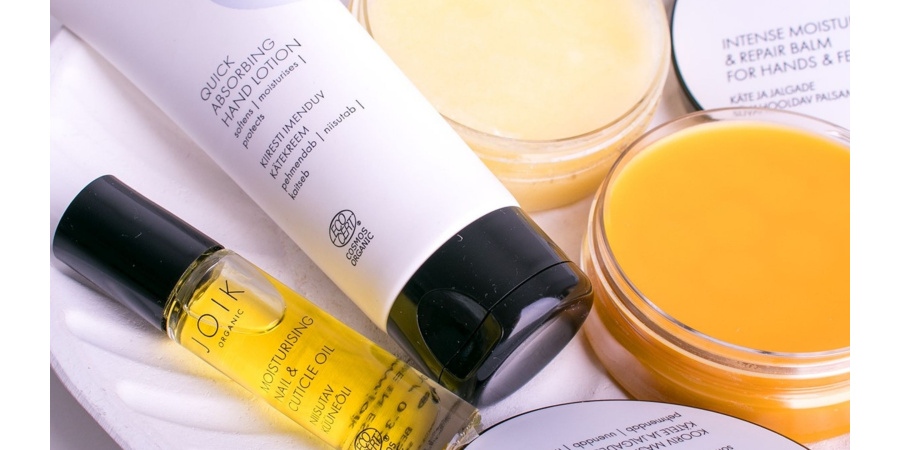 ✅ v zimních měsících dostávaly naše ruce zabrat. Mráz, střídání teplot, dezinfekce, časté mytí rukou, nebo přetopené místnosti, to jsou faktory, které pokožce rukou příliš nesvědčí. Čím déle zima trvá, tím více je pokožka rukou vystavena nepříznivým vlivům, které ji narušují.
Jak o ruce po zimě pečovat? S námi máte řešení na dosah :)
✅ nebudete muset dlouze tápat mezi regály a přemýšlet, co na ruce pořídit, protože u nás nabízíme dokonale vyladěnou sadu, díky které vám nebude vůbec nich chybět, ani přebývat. A výsledek? Jednoznačně dokonalý! :)
Krok 1 - správný peeling
✅ je důležité pravidelně odstraňovat odumřelé buňky a usnadňovat tak přístup kosmetickým produktům prostupovat více do hloubky. Peeling určený speciálně na ruce šetrně odstraní odumřelé buňky a organické oleje pokožku zjemní a vyživí. Neznáme nic lepšího pro sametově jemné ruce :)
Krok 2 - hydratace a zvláštní péče pro jemnou kůži v okolí nehtů
✅ Včasná a pravidelná hydratace zamezí bolestivému popraskání kůže, nebo svědění. 
✅ Lehké a rychle se vstřebávající, ale zároveň hloubkově hydratující mléko na ruce v praktickém balení, to je pro chladné dny to pravé ořechové. Do kabelky, do batohu, na kancelářský stůl, všude, kde potřebujete, s sebou můžete mít a co nejčastěji využívat Rychle se vstřebávající krém na ruce. O ruce pečuje, chrání je a vyživuje.
✅ Jak už jsme zmiňovaly, neméně důležitá je i péče o jemnou kůži v okolí nehtů. Správnou péčí zabráníte drobným poraněním, ochráníte ji před infekcemi, podpoříte a posílíte růst nehtů. Hydratační olej s organickým neemem bude tou pravou volbou. 
Krok 3 - intenzivní péče
✅ ✅ Ochrana, hydratace, výživa a regenerace. Za vším stojí Zvláčňující a obnovující balzám na ruce a nohy. Pro okamžitou hydrataci naneste slabou vrstvu na ruce, nebo nohy. Pro intenzivní hydrataci naneste silnější vrstvu a nechte působit přes noc.
Krok 4 - povolejte na pomoc rukavice
✅ Pro hloubkovou hydrataci a regeneraci naneste na pokožku rukou před spaním silnější vrstvu JOIK ORGANIC Zvláčňujícího a obnovujícího balzámu a zabalte do bavlněných rukavic. Ráno se probudíte jako znovuzrození :)
Review of the e-shop
The goods are always beautifully packaged, with a sprig of lavender and a painted heart on the box. It's extremely gratifying.
Large selection Quality goods Fast delivery
Very nice and lovingly packed Fast delivery
Fast delivery, beautifully packed :)
NIC