Anela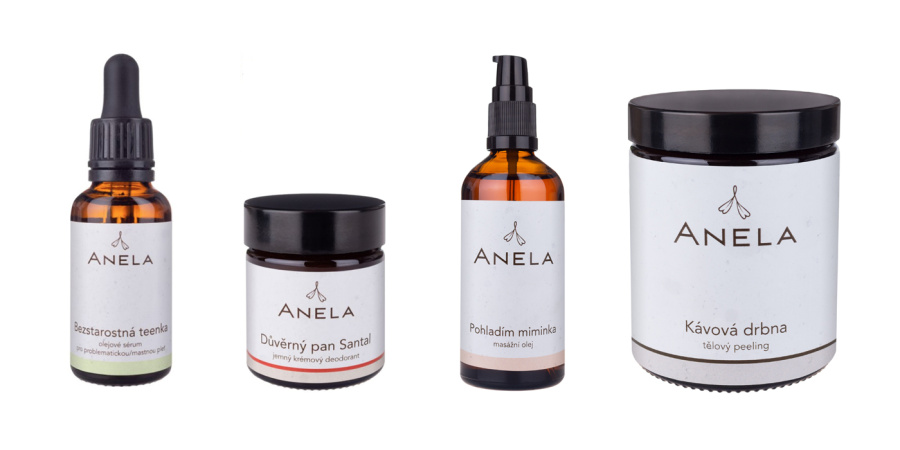 Anela - to je především láska a respekt. Láska a respekt k sobě samým, k sobě navzájem a samozřejmě také k přírodě a naší planetě. Za touto krásnou značkou stojí dvě ženy, Andy a Ela. A nejen ony, ale také spousta dalších lidí kolem nich, kteří je v jejich práci podporují. 
V produktech najdete jen ty nejkvalitnější suroviny - oleje, másla, extrakty, výtažky z rostlin, ovocné enzymy. A protože jsou produkty tvořené rukama, tak do nich Andy s Elou dávají i část sebe. 
Všechny produkty jsou certifikovány nejen z hlediska bezpečnosti, ale také pro použití na citlivou pleť. Výrobky ani použité suroviny nebyly testovány na zvířatech a kromě včelích produktů a lanolinu jsou použity suroviny pouze rostlinného původu.
Kosmetika je plněna do skleněných obalů, s výjimkou sprchových produktů, které jsou kvůli bezpečnosti baleny v recyklovatelných plastových obalech. 
A jak to mají v Anele s cenou produktů? Ceny jsou nastaveny fér. To znamená, že jsou Andy s Elou ohodnoceny za svou práci, nakupují kvalitní suroviny, ale cena produktů stále zůstává tak, aby si ji mohl dovolit co největší okruh žen. 
Vybírat můžete z pleťové kosmetiky, kde určitě stojí za zmínku pleťová séra a nejoblíbenější produkt Bílá noční teenka. Dále z kosmetiky určené na tělo a také pro naše nejmenší.
Review of the e-shop
The goods are always beautifully packaged, with a sprig of lavender and a painted heart on the box. It's extremely gratifying.
Large selection Quality goods Fast delivery
Very nice and lovingly packed Fast delivery
Fast delivery, beautifully packed :)
NIC