DULCIA NATURAL Mineral Antibacterial Facial Mist 100 ml
Description and parameters
Review (0)
Discussion
DULCIA NATURAL Mineral Antibacterial Facial Mist 100 ml
The healing and antibacterial effects of colloidal silver together with vitamin B3 disinfect, cleanse and regenerate the skin. The product reduces sebum secretion, has a beneficial effect on acne and skin inflammation. It helps calm troubled skin and brightens it. Excellent skin care product during the day to remove bacteria (e.g. during sports, sweating).
Our new facial mist is based on Slovak mineral water. miss+ mineral water from under the peaks of the High Tatras is unique in its composition, it has the most optimal composition of individual minerals. It contains a high content of silicon, calcium and magnesium. nature has specially modified the minerals that the water contains and we have enriched this unique Slovak mineral water with vitamins that our skin needs. Antibacterial Facial Mist is a natural miracle that will help you with several skin imperfections. With colloidal silver in two forms, vitamin B3 and green tea extract and magnesium, it helps reduce inflammation and skin irritation. Smoothes fine lines and wrinkles. Cleanses, tightens pores and unifies skin tone. It has excellent antibacterial and antioxidant properties. A synergistic blend of selected ingredients cleanses, disinfects and gets rid of excess sebum and pathogenic bacteria growing on the skin. It soothes the skin, reduces inflammation and strengthens it. Provides hydration, energy and protection to the skin.

Active ingredients
Colloidal silver citrate - provides protection to the skin against external factors that trigger inflammatory processes. It stimulates skin regeneration and its active healing and renewal, especially if there are small injuries and wounds on the skin surface.
Colloidal silver - has excellent antibacterial effects, counteracts redness and inflammation, cleanses and regenerates the skin, regulates sebum production. Prevents the spread of viruses, bacteria and microorganisms.
Vitamin B3- Niacin helps brighten the skin and counteracts the appearance of acne. Helps reduce hyperpigmentation, unifies the natural skin tone.
Green Tea Extract - helps regulate sebum production and clean clogged pores, also has antioxidant properties that help prevent premature skin aging
Magnesium - has positive properties in the fight against acne or rosacea, for example. It improves skin quality, reduces the risk of inflammatory processes in the skin and soothes and softens the skin. It improves the condition of our skin and also reduces the formation of wrinkles.
Red cabbage extract - has strong antioxidant properties, many minerals and vitamins. Among the most prominent minerals are selenium, which is in short supply nowadays, and also contains sulphur, folic acid, zinc and vitamins C and B3 (niacin), provitamin A and beta-carotene. It strengthens skin immunity, increases resistance to infections and maintains healthy skin microflora.Aroma: A soft, clean, unperfumed water whose scent is derived from the ingredients used. The scent of green tea is the most noticeable,
Texture: light liquid texture in a bottle with extra fine spray.
Please note: This product is not intended for people who are allergic to silver.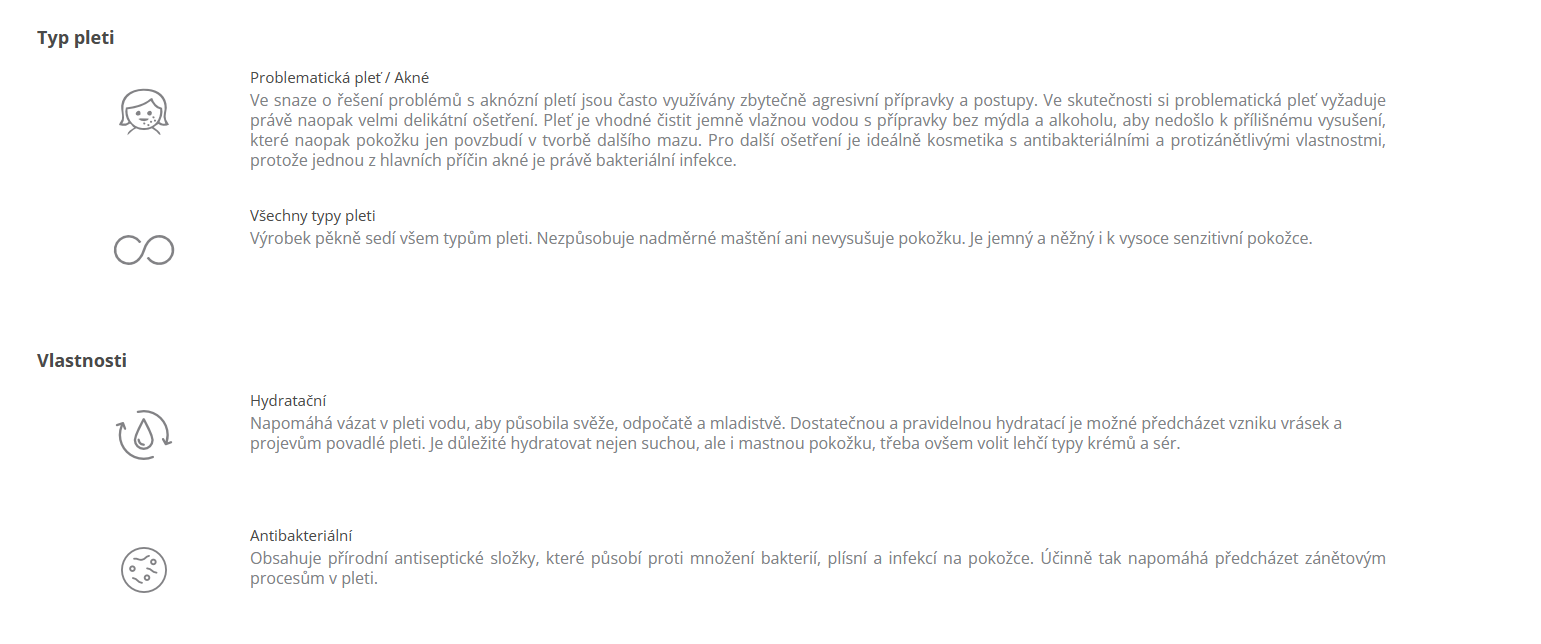 Why will you love it?❤️
An amazing product for active people, disinfect your skin after sports or during exertion when your skin and scalp sweat. Try using it as a deodorant during the day and also as a foot freshener and disinfectant spray.
Local manufacturer (CZ and SK)
Yes
Origin of the brand
Slovakia
Use
To refresh and disinfect the skin, use by spraying on the skin a maximum of 3 times a day. The gentle mist can also be used to refresh and strengthen the scalp and roots.
Ingredients
Mineral water, Camellia Sinensis Leaf Water, Niacin, Silver Citrate, Colloidal Silver, Magnesium Sulfate, Brassica Oleracea Capitata Leaf Extract, Dehydroacetic acid, Benzoic acid, Sorbic acid, Benzyl alcohol
Storage
Natural cosmetics are best stored in a cooler, dry place. Do not expose it to direct sunlight or frost. Sunlight can devalue it or reduce its expiry date. At the same time, when using cosmetics, follow the hygiene recommendations, for example, use a cosmetic spatula to scoop the products in the cup, always close the products after use and keep the edges of the bottles clean. Keep out of reach of children.
Notice
The product is not intended for people who are allergic to silver. For external use only. However, do not use natural cosmetics on open wounds either. This product is not intended to diagnose, prevent or cure any disease. In case of eye contact, flush with lukewarm water from the inner corner to the outer corner for at least 15 minutes. If you wear contact lenses, remove them before rinsing. If irritation occurs, seek medical attention. Before the first use, it is recommended to perform the so-called. patch test, i.e. apply and test the cosmetic product for tolerance on a small area of skin, preferably on the wrist, and wait 24 hours. This method can prevent the onset of allergic reactions and hypersensitivity to the product. If an allergic reaction occurs after application, wash the skin surface with lukewarm water. Stop using the product immediately. If the allergic reaction persists for a prolonged period of time, seek medical attention.
This item has not been discussed yet. If you want to be first, click on the button Add a post
DULCIA NATURAL Minerální pleťová mlha antibakteriální 100 ml
Review of the e-shop
Product selection Speed of delivery Incredibly beautiful product packaging, it is not often seen
Zadnou jsem nenasla
everything without problems
--