Hyaluronové sérum od Nobilis Tilia a Renovality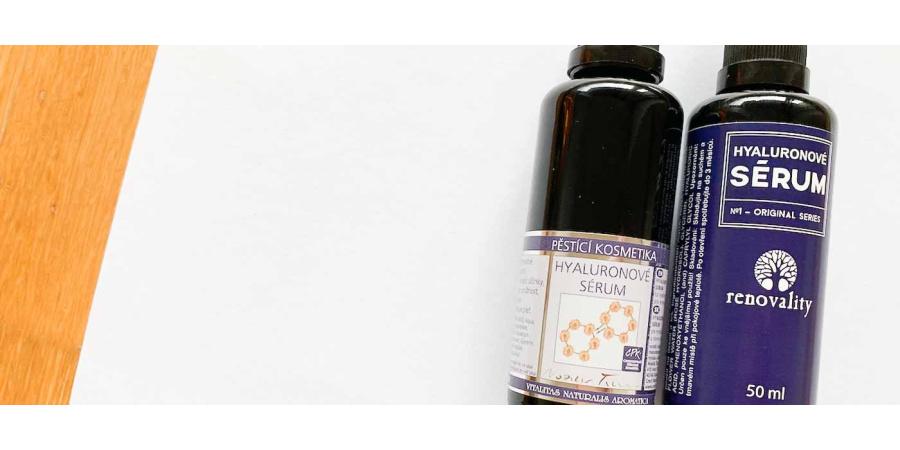 Z každé nové značky v e-shopu mám obrovskou radost. Je za tím sice hodně práce a času, ale stojí to za to. Nestává se příliš často, aby se objevily úplně stejné produkty od různých značek, ale teď tu dva takové máme. Hyaluronové sérum od Nobilis Tilia a Renovality. Vás toto sérum zaujalo a dostávám dotazy, jaký je mezi nimi rozdíl a které bych Vám doporučila koupit. Rozhodla jsem se obě séra vyzkoušet a podívat se jim více na zoubek.
Balení
Sérum od Nobilis Tilia můžete koupit ve dvou různě velkých baleních - 20 ml a 50 ml. Renovality nabízí pouze velikost 50 ml. Obě séra jsou balena ve fialovém skle, což je pro kosmetiku vynikající. Fialové sklo funguje jako přirozený filtr, který propouští jen UVA záření. Tak se chrání a zlepšuje kvalita prospěšným a citlivých látek. Nobilis Tilia má balení s kapátkem, které mi velmi vyhovuje. Pár kapek nanesu na čelo, tváře, bradu a krk a rozmažu. Renovality sérum má pumpičku, která je praktická a tak záleží jen na tom, co Vám více vyhovuje.
Složení
Sérum od Nobilis Tilia má certifikát CPK. Tato zkratka označuje Certifikovanou přírodní kosmetiku. Aby produkt získal tento certifikát, nesmí obsahovat žádné syntetické látky, modifikované složky, ropné deriváty, umělá barviva, chemické UV filtry a chemické konzervační látky. Zároveň výrobky nesmí být testovány na zvířatech. I značka Renovality se může chlubit tímto certifikátem, ale hyaluronové sérum je jediným produktem z jejich nabídky, který ho nemá, protože obsahuje phenoxyethanol. Ten se velmi běžně vyskytuje v kosmetice a jedná se o konzervant, který značka použila, jinak by se kyselina rozpadla ve vodu. Dlouhodobě v Renovality testovali stabilitu hyaluronového séra, leč bez tohoto pojiva se po měsíci složení vždy rozpadlo ve vodu. Intenzivně se pracuje na změně právě phenoxyethanolu za čistě přírodní látku, jen je to běh na delší trať. Stabilizační test většinou trvá 2 - 3 měsíce. Konzervant je v séru v co nejmenším množství i značně pod povolenou hranicí. Z toho důvodu je uveden v INCI na posledním místě s nejmenším zastoupení.
Vůně a konzistence
Konzistenci mají téměř stejnou. Jedná se o řidší gel, který se skvěle vsákne do pokožky, aniž by pleť zůstala mastná nebo lepkavá. Ideální jsou nejen samostatně, ale i pod pleťový krém, olej nebo make-up. Co se vůně týče, to od Nobilis Tilia mi voní víc :-) Sladce, květinově, tak přirozeně. Sérum od Renovality výraznější vůni nemá, jen někde v pozadí je cítit růžovou vodu. Obě vůně jsou jemné a nevtíravé, proto potěší i muže nebo ty, kteří nemají rádi příliš voňavou kosmetiku.
Účinky
Co se účinků týče, tak jsou velmi srovnatelné a zde bych jen těžko hledala vítěze. Pokožku pomáhají hydratovat, zpevnit a vypínat. Je to anti-aging pomocník, který zabraňuje stárnutí pleti. Pleť je pružnější a jemná. Hydrataci potřebuje každý typ pleti, některý více, jiný méně. Pokud máte pocit, že sérum není dostatečné a potřebujete ještě výživný krém, klidně ho aplikujte na sérum. Jejich účinky nezaniknou, ba naopak. Pleť dostane vše, co potřebuje a bude vypadat zdravě a mladistvě.
Zaujala Vás pleťová séra? Zajímá Vás něco dalšího? Neváhejte a dejte mi vědět.
Review of the e-shop
everything without problems
--
Quality goods, fast order processing
Large selection of natural cosmetics
fast order processing interesting assortment