LIQOIL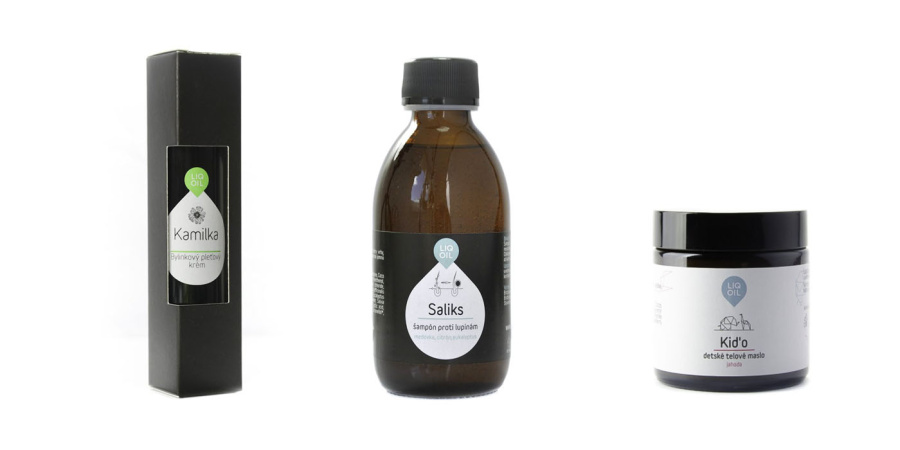 Spolupráci se značkou LIQOIL jsem domlouvala před několika měsíci. Takže já se z ní raduji už nějaký ten pátek a nyní můžete konečně i Vy :-) Slovenská značka LIQOIL vyrábí kvalitní přírodní produkty s důrazem na ochranu životního prostředí. Produkty zaujmou nejen jednoduchými a krásnými obaly, ale také svým složením. Najdete v nich například zelenou řasu, extrakt z lopuchového kořene, šalvějový extrakt nebo přírodní vitamin C.
V nabídce najdete pleťovou kosmetiku, ze které bych vyzvihla především Suchý olej na pleť "Zamat". Zamat je suchý olej s luxusní květinovou vůní vyráběnou tradiční metodou - olejovou destilací okvětních lístků. Olej je vhodný na pokožku tváře, zralejší pleť, ale i na ošetření vlasů. Olej se rychle vstřebává, neucpává póry a nezatěžuje pleť. Ta zůstává sametově jemná. Základ tvoří za studena lisovaný arganový olej, který je bohatý na kyselinu olejovou. Ta hydratuje pokožku, dělá ji jemnou, zářivější a vláčnou. Dále olej obsahuje extrakt z kůry magnolie, který redukuje začervenání pleti. Olej zabraňuje ztrátě vlhkosti a díky vysokému podílu nenasycených mastných kyselin vytváří ochrannou bariéru. Jeho stabilitu zabezpečuje aktivní vitamin E, získaný ze slunečnic. V kategorii pleťové kosmetiky najdete dále také dvoufázový odličovač, pleťové krémy nebo skvělé jílové masky. 
Péče o tělo nabízí tělová másla a také suchý olej, který je vhodný na napínané bříško v těhotenství, ale i na strie po porodu, na pokožku těla po koupání i na suchou pleť. Jeho základ tvoří za studena lisovaný olej z meruňkových jader, který je známý pro svůj vysoký obsah nenasycených mastných kyselin, zejména olejové. Ta zabezpečuje zjemnění pokožky. Dále o Vaši pokožku bude pečovat měsíčkový olej, který se postará o ošetření a hydrataci pokožky.
V péči na vlasy najdete tekuté šampony. Vybírat můžete ze 4 druhů - na jemné vlasy, mastné, na vlasy s lupy nebo na podporu jejich růstu. Šampony jsou obohaceny o kondicionační složku.
Novinkou je dětská řada Kid'o. Ta obsahuje to základní, co pro spokojenost Vašich dětiček potřebujete - šampon a gel 2v1, máslo na tělo a krém na dětskou tvářičku. 
Dekorativní kosmetiku zastupuje zatím pouze jeden produkt a to BB krém. Přírodní BB krém redukuje nedokonalosti pleti, sjednocuje pleť a kryje drobné začervenání. 100% přírodní krém se díky lehkému složení rychle vstřebává. Základ tvoří měsíčkový olej, extrakt z heřmánku a přírodní pigment. Funguje jako plnohodnotný krém, vyživuje a zároveň rozjasňuje tón pleti.
Review of the e-shop
The goods are always beautifully packaged, with a sprig of lavender and a painted heart on the box. It's extremely gratifying.
Large selection Quality goods Fast delivery
Very nice and lovingly packed Fast delivery
Fast delivery, beautifully packed :)
NIC
fast delivery, large selection, beautifully packaged
some brands are missing in my selection
fast order processing beautifully packed