SONETT washing gel Sensitive 2 l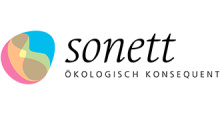 Description and parameters
Review (0)
Discussion
SONETT washing gel Sensitive 2 l
Liquid washing gel for white and coloured clothes for hand and machine washing at temperatures from 30 °C to 95 °C. The special formula without essential oils, preservatives and dyes does not irritate even the most sensitive skin.The special energy-saving method of soaping, the use of oils and essential oils from organic farming and the extremely favourable price/load ratio for a liquid detergent are the outstanding features of this product.All packaging is recyclable.
Origin and properties of the individual ingredients
Soap, sugar tenside and coconut oil derivatives reinforce and complement each other in this liquid detergent. In the production of soap, the organic rapeseed oil is saponified with potassium caustic using a special process without bringing in heat from outside. Soap as an active detergent uniquely combines all the properties necessary for the washing process of wetting dirt, dissolving and carrying it. In this effect, the soap is amplified by sugar tesside and coconut oil derivatives, which are obtained from pure vegetable raw materials of sugar, starch and coconut fat by chemical transformations with the help of acids. At the same time, this combination eliminates the disadvantage of soap, which is the formation of calcium soap, which can settle on the laundry if the dosage of fabric softener is inaccurate. Alcohol, which is obtained by fermenting plant starches, serves to keep the detergent in a liquid state, thus allowing a high concentration of active cleaning agent.

Biodegradation
Vegetable oil soap has the peculiarity, compared to all other cleaning agents, that immediately after use it combines with the calcium always contained in the waste water to form calcium soap and thus neutralises itself in its surface effect on aquatic organisms (primary degradation). The calcium soap is then 100% decomposed by microorganisms into carbon dioxide and water (secondary degradation). In the process of manufacturing sugar tensides and coconut derivatives, the plant raw materials of starch, sugar and fat are extracted but the parts remain fully preserved in their natural structure. Therefore, it is easy for microorganisms to fully degrade these tensides. Soap, sugar tensides and coconut oil derivatives are considered by the OECD to be readily biodegradable. 
Why will you love it?❤️
SONETT organic drugstore products are 100% degradable, within hours to days they completely decompose in water into common natural ingredients. Sonett refuses to use ingredients that are harmful to the environment and to human health.The raw materials used in production come from bio-dynamic or organic farming or free collection.The water used in production is bio-dynamically rhythmized and blends of energetic herbs and essences of precious stones and metals are added to Sonett products.Sonett is the only producer of eco-drugs to hold two eco-certificates.
Use
Dosage: 1 cap = 40 ml. Dosage: per 4.5 kg of laundry. soft water: 50-75 ml; medium hard water: 60-100 ml; hard water: 60-100 ml + 50 ml SOFTENER At temperatures from 50°C add 60 ml Sonett Bleach Hand wash: 40 ml per 5l of water
According to certification
NCP
Origin of the brand
Germany
Notice
At temperatures below 10 °C, the product changes and becomes somewhat thicker and cloudy, which is not the case when it is hot, or when it is not hot at all. after a slight shake, it disappears again. Keep dry and in a sealed container. Keep out of reach of children. In case of accidental ingestion, seek medical attention and present this package.
Ingredients
Aqua, potassium soap*, alkylpolyglucoside C8-C16 (coco glucoside, lauryl glucoside), sodium C8-C14 fatty alcohol sulphate (sodium octyl sulphate, sodium lauryl sulphate), alcohol, sulphated castor oil, sodium / potassium citrate *certified organically grown We would like to inform you that despite regular updates of product information from suppliers, the list of ingredients used may vary.
This item has not been discussed yet. If you want to be first, click on the button Add a post
SONETT prací gel Sensitive 2 l
Review of the e-shop
everything without problems
--
Quality goods, fast order processing
Large selection of natural cosmetics
fast order processing interesting assortment