SONETT liquid dishwasher polish 500 ml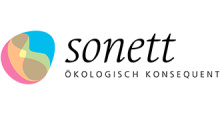 Description and parameters
Review (0)
Discussion
SONETT liquid dishwasher polish 500 ml
Suitable for all domestic dishwashers in combination with SONETT Tablets or SONETT Dishwasher Powder and SONETT Regenerating Salt. The special composition of easily degradable substances facilitates the draining of water from the dishes and prevents lime stains on cutlery, glassware and stainless steel.The new SONETT Liquid Polish is a product that produces excellent results in the dishwasher, even with harder water, with purely plant-derived ingredients. All packaging is recyclable.

Origin and properties of the individual components
Ethanol, obtained by fermentation of starchy plants such as. potatoes, and a sugar tenside made from coconut fat and corn starch reduce the surface tension of the water during the last wash cycle, causing the water to run off the dishes better.

Biodegradation
Ethanol occurs in minute quantities in nature. It is rapidly and 100% degradable to carbon dioxide and water if it gets into wastewater. In the manufacturing process of sugar tensides, the sugar and fat parts are combined in such a way that the internal molecular structure is preserved. Therefore, microorganisms can quickly and completely degrade these tensides without any problems.
Why will you love it?❤️
SONETT organic drugstore products are 100% degradable, within hours to days they completely decompose in water into common natural ingredients. Sonett refuses to use ingredients that are harmful to the environment and to human health.The raw materials used in production come from bio-dynamic or organic farming or free collection.The water used in production is bio-dynamically rhythmized and blends of energetic herbs and essences of precious stones and metals are added to Sonett products.Sonett is the only producer of eco-drugs to hold two eco-certificates.
Use
Regulate the amount of the product according to the hardness of the water, reduce the dosage if dark spots appear on the cutlery. Pour the product into the appropriate container. Follow the manufacturer's instructions for your dishwasher. The dishwasher water softener should be set at 8° dH (German degrees) above the local water hardness. For example, if you have a water hardness of 16°dH (2.86 mmol/L), you should set the device to 24°dH (4.29 mmol/L). Please note: In the case of a built-in electronic water softener, it is not advisable to use Sonett eco-friendly detergents.
According to certification
NCP
Origin of the brand
Germany
Notice
For external use only. Keep dry and in a sealed container. Keep out of reach of children. In case of accidental ingestion, seek medical attention and present this package.
Ingredients
Aqua, alcohol, sulphated castor oil, alkylpolyglucoside C8-10
This item has not been discussed yet. If you want to be first, click on the button Add a post
SONETT tekuté leštidlo do myčky 500 ml
Review of the e-shop
everything without problems
--
Quality goods, fast order processing
Large selection of natural cosmetics
fast order processing interesting assortment