NATUINT COSMETICS Exclusive liftingové pleťové sérum 30 ml
Description and parameters
Review (0)
Discussion
NATUINT COSMETICS Exclusive liftingové pleťové sérum 30 ml
Řada Exclusive se specializuje na péči o zralou pleť. Sérum s patentovanou peptidovou technologií stimuluje tvorbu kolagenu, kyseliny hyaluronové a fibronektinu, jejichž úbytek, který souvisí s věkem, má za následek viditelné projevy stárnutí. Jedinečné složky působí v hlubších vrstvách pokožky, zpevňují kontury obličeje a vyhlazují vrásky. Sérum má lehkou konzistenci, krásně se vstřebává a nezanechává pocit mastnoty.
Proteiny jako kolagen, keratin, elastin se postupně z našeho těla vytrácejí, díky čemuž pleť ochabuje, vytrácí se její pružnost a pevnost a hladký vzhled.
Díky tomuto peptidovému séru se navrací do pleti hydratace, objem, eliminují se stařecké a pigmentové skvrny a pokožka je díky němu viditelně zdravější, jasnější, mladistvější.
Peptidové sérum je velmi koncentrované a dokáže pronikat hluboko do vrstev pokožky, je schopné dodat aktivní látky do částí, ve kterých dokáže velmi účinně pracovat s kožními buňkami, regenerovat je, revitalizovat, omlazovat a vyživovat. 
Díky patentované peptidové technologii skutečně viditelně snižuje projevy stárnutí, dokáže reaktivovat kožní buňky a podporovat a zlepšovat produkci kolagenu a kys. hyaluronové. 
Sérum bylo vytvořeno, tak aby poskytlo komplexní řešení pro potřeby stárnoucí pleti:
- obnovuje pokožku v každé vrstvě
- uvolňuje mimické vrásky
- viditelně pokožku hydratuje, vypíná, zjemňuje její vzhled
- pokožku zklidňuje
- zabraňuje ztrátě vody
- chrání před UV zářením, tzv. modrým světlem
- vyhlazuje póry, reguluje tvorbu mazu
Baleno v lahvičce s pipetou
Textura
Hydrogelové, velmi lehké sérum, které se okamžitě vstřebává do pokožky, je průsvitné s lehkým nádechem krémové barvy. Je jemně provoněno vůní hořkého pomeranče.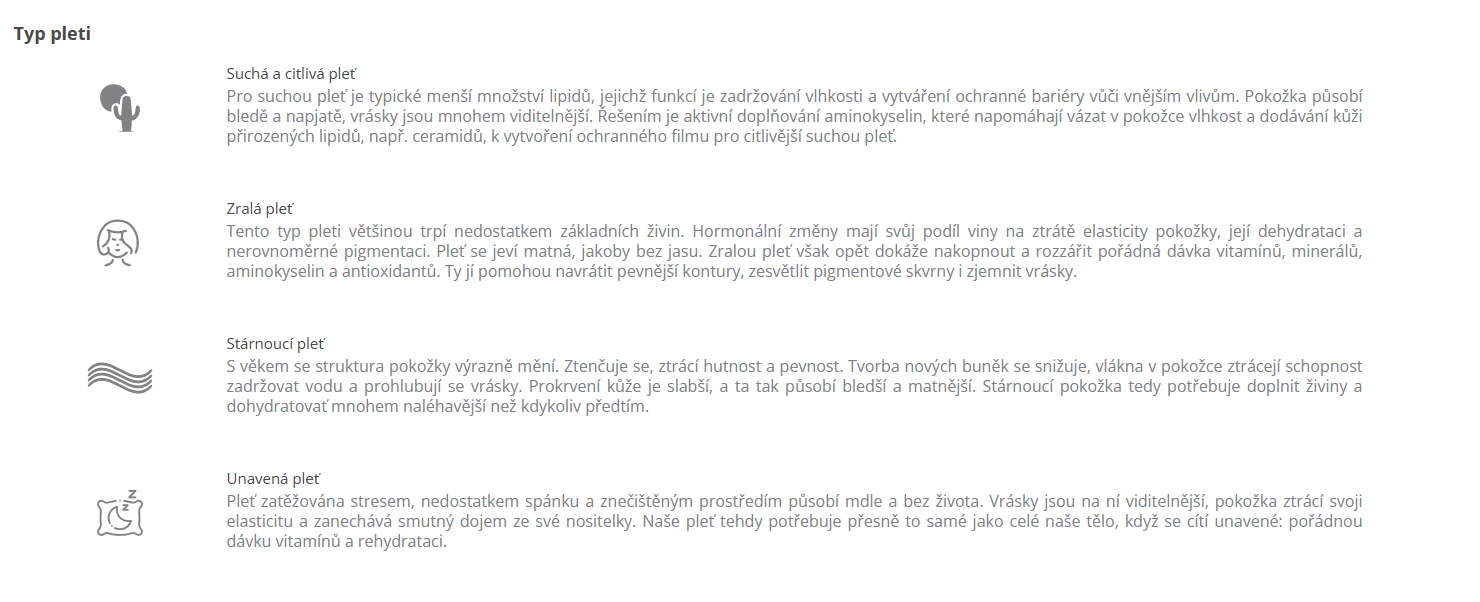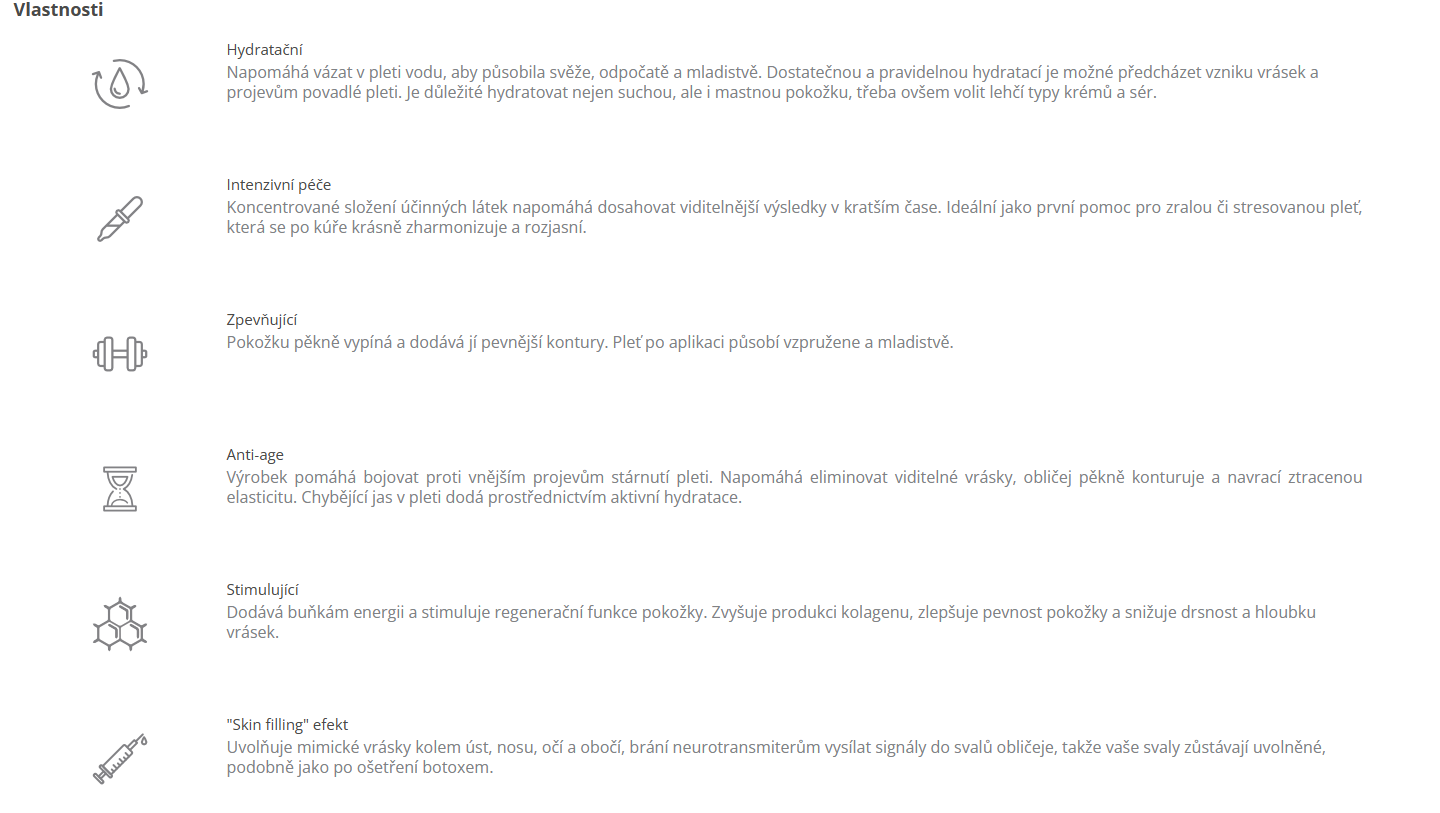 Účinné látky
SNAP-8TM je peptidový roztok, který vyrovnává mimické vrásky. Účinnost této látky je srovnatelná s botulotoxinem a to bez injekčního vpravování jedovatých látek do těla.
Vin-upLift působí jako okamžitý lifting, který výrazně snižuje viditelnost vrásek již 30 minut po nanesení séra. Po aplikaci vypadá pleť mladistvě a svěže. Účinky Vin-upLift byly prokázány klinickou studií.
Vitamin B3 (Niacin) dokáže výrazně zlepšit vzhled rozšířených pórů, upravuje mastnotu pleti a sjednocuje její tón. Díky protizánětlivým účinkům je ideální na aknózní pleť či pleť, která je postižena psoriázou, rosaceou nebo jinými kožními problémy. Vitamín B3 také zvyšuje hydratační schopnost pokožky, čímž odolává ztrátě vlhkosti, která následně vede k vysoušení, pnutí a šupinatění. Skvěle se doplňuje s dalšími aktivními látkami, zejména s kyselinou hyaluronovou či vitamínem C.
Oligo Hyaffere je hydrolyzovaná forma kyseliny hyaluronové s velmi malou molekulární hmotností 5 kDa dokáže intenzivně hydratovat v hlubokých vrstvách pokožky a zklidňuje zanícení. Dokáže obnovovat eslasticitu pokožky a působí proti viditenosti vrásek. Zajišťuje lepší vyživování svrchních vrstev pokožky a podporuje tak jejich regeneraci. Navíc podporuje také produkci vlastní kyseliny hyaluronové.
Phytosan účinkuje proti biologickému stárnutí a proti stárnutí pokožky způsobené působením škodlivého UV záření. Stimuluje produkci kolagenu, zlepšuje pevnost pokožky a zjemňuje vrásky.
Komplex rostlinných peptidů a proteinů zvyšuje hustotu pojivové tkáně v pokožce a tím snižuje viditelnost různých druhů vrásek. 
Kyselina mléčná vzniká fermentací bakterií, které se nacházejí v ovoci, zelenině či mléce. Je jednou z AHA kyselin, má exfoliační schopnosti a pokožku krásně čistí. Redukuje prvotní vrásky i pigmentové skvrny a sjednocuje barevný tón pleti. Upravuje pH produktů, pleti i vlasů. Má hydratační a zvláčňující účinky.
BIO hydrolát Neroli je také známý jako květinová voda z květů pomeranče. Jeho hydratační vlastnosti pomáhají vyrovnávat tvorbu kožního mazu a také udržuje vlhkost v sušších místech pokožky. Stahuje rozšířené póry, pleť zjemňuje a zpevňuje. Uklidňuje zanícenou pokožku vč. akné, ekzému, psoriázy a růžovky.
Růžová voda je excelentní hypoalergenní květová voda s čistícím a tonizujícím účinkem na všechny typy pleti. Udržuje pH pokožky, stimuluje regenerační procesy, má protizánětlivé účinky u akné a nadměrného slunění. Zanechává hladkou a elastickou pokožku. Má zklidňující vlastnosti při očních lázních na "unavené oči" a ochablé víčka.
Glycerin udržuje přirozenou vlhkost v pokožce.
Proč si ho zamilujete? ❤️
Příjemná, gelová konzistence se rychle vstřebává, pokožku vypne, hydratuje a rozzáří
Local manufacturer (CZ and SK)
Yes
Origin of the brand
Slovakia
Use
Aplikujte ráno a večer na odlíčenou a vyčištěnou pleť, krk a dekolt.
Ingredients
Růžová voda, BIO NEROLI hydrolát, SNAP-8 ™, Niacin, Phytosan™, Densorphin™, REPLEXIUM™ peptide, Iscaguard®PFA, Vin-upLift, Glycerin, Kyselina mléčná, OligoHyaferre
Notice
Určeno pouze k vnějšímu použití. Avšak ani přírodní kosmetiku nepoužívejte na otevřené rány. Tento produkt neslouží k diagnostice, ani předcházení nebo léčení jakékoli nemoci. Při zasažení očí vyplachujte alespoň 15 minut vlažnou vodou od vnitřního koutku k vnějšímu. V případě, že nosíte kontaktní čočky, před vymýváním je odstraňte. Pokud dojde k podráždění, vyhledejte pomoc lékaře. Před prvním použitím se doporučuje provést tzv. patch test, tj. aplikovat a otestovat kosmetický přípravek na jeho snášenlivost na malé plošce pokožky, nejlépe na zápěstí a počkat 24 hodin. Touto metodou se může předejít nástupu alergických reakcí a přecitlivělosti na daný výrobek. Pokud se po aplikaci projeví alergická reakce, povrch pokožky omyjte vlažnou vodou. Výrobek okamžitě přestaňte používat. Pokud alergická reakce přetrvá po delší dobu, vyhledejte lékařskou pomoc.
Storage
Při skladování se vyhněte teplotám nad 23 °C a rozhodně ji chraňte před přímým slunečním zářením. Při vysokých teplotách oleje žluknou a ztrácejí svou kvalitu. Že se tak stalo poznáte obvykle podle změny barvy deodorantu a také podle nepříjemného zápachu.
This item has not been discussed yet. If you want to be first, click on the button Add a post
NATUINT COSMETICS Exclusive liftingové pleťové sérum 30 ml
Review of the e-shop
Product selection Speed of delivery Incredibly beautiful product packaging, it is not often seen
Zadnou jsem nenasla
everything without problems
--